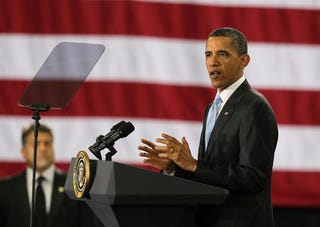 This is Part 2 of The Agenda: What Obama Has Done for You, a series of articles looking at President Barack Obama's record on issues that affect blacks.
As African-American environmental-justice proponents Van Jones and Phaedra Ellis-Lamkins will tell you, environmental sustainability and climate change are, in addition to their general importance, also tremendously relevant to the overall health of America's communities of color. Though clean energy is a less obvious racial issue than, say, education or criminal justice, it's becoming increasingly evident that what goes into our water and air, and how we build our energy infrastructure, are, or should be, topics of grave importance to African Americans.
The Obama administration has set in motion a number of programs to address past injustices while also planning for a future in which low-income communities of color have an opportunity to thrive in the green economy.
Partnership for Sustainable Communities: A Coordinated Effort for Change
Almost as soon as he got into office, Obama began work on his Partnership for Sustainable Communities initiative. By combining the efforts of the Environmental Protection Agency, Department of Transportation, and Department of Housing and Urban Development, the administration has launched a project in which, for the first time in history, all three departments are working together in a way that makes absolute sense to anyone who's ever lived in a major urban area.
"It is interesting that it took until President Obama for this to happen," says Derek Douglas, special assistant to the president for urban affairs. "I think it has to do with the bottom-up approach the president has asked all of his agencies to take, and these are the types of results you get when you do that."
The partnership seeks to invest money and political energy into communities in a way that takes into account the unique way that transportation, housing and the environment affect one another. The end goal, according to the White House, is to offer "more housing choices, make transportation systems more efficient and reliable, and support vibrant neighborhoods that attract businesses."
To that end, more than $400 million in Sustainable Communities grants have been handed out in October, much of which goes directly toward addressing environmental issues in low-income communities.
Washington, D.C., for instance, received $3 million in order to expand the city's low-income housing and help revitalize the currently blighted neighborhood of Anacostia. Atlanta will get more than $40 million to construct a streetcar line. 
Developments like this help in multiple ways: First, they offer Americans new residential opportunities and the economic benefits that come with having a reliable mode of transportation, and they simultaneously provide construction jobs in the burgeoning green economy. What's more, because the grantees are required to be mindful of green business practices and green building, ultimately the projects provide a healthier environment for residents.
"Pollution, like dirty air and contaminated water, can have significant economic impacts on overburdened and low-income communities, which drives away investment, new development and new jobs," says Heather Zichal, deputy assistant to the president for energy and climate change policy. "But it also exposes residents to potentially costly health threats. And I think that at the end of the day, that's the bottom line."
Using $5 billion from the American Recovery and Reinvestment Act, the Obama administration will reinvigorate the Weatherization Assistance Program by providing weatherization services to 100,000 low-income families a year. "It's one of the less sexy programs," says Zichal, "but if you have a house with better windows and insulation, you're not going to need to use as much electricity."
The Green Jobs Act: Picking Up Where Bush Left Off
In 2007 the Green Jobs Act, signed into law by President George W. Bush as part of the Energy Independence and Security Act, authorized up to $125 million per year to create an Energy Efficiency and Renewable Energy Worker Training Program. After he signed the bill, though, Bush didn't include any money for it in his budget.
Obama has made it a goal of his administration to fund green jobs initiatives, and his 2011 budget includes $85 million for green jobs-training programs. What this means for people of color is more jobs and a greater preparedness for the future economy, since these training programs frequently partner with low-income-friendly community colleges. "We've been able to — in a number of states — work with local community colleges to help train the workers in the new green economy," says Zichal. (Editor's update: In an April 2011 budget deal, funding for job training took a significant hit. The green jobs program, in particular, was cut almost in half.)
The Interagency Working Group on Environmental Justice: Obama Revives It
Though we've known for decades that racial makeup is a significant determinant in predicting which communities are most affected by commercial hazardous-waste facilities, it wasn't until the Clinton presidency that the EPA's Interagency Working Group on Environmental Justice (EJ IWG) was established.
Designed to address America's problem with environmental discrimination, in which low-income communities bear the brunt of landfills and waste dumps, the EJ IWG was all but disbanded under Bush. At the group's first meeting in almost a decade, Attorney General Eric Holder and the secretaries of the Interior, Transportation and HUD all met and recommitted to the group's goals.
"At that initial meeting, we laid out a framework for activities in the near term," says Zichal, "including holding monthly working-group meetings and assigning senior officials from each agency to coordinate environmental-justice activities."
Each agency has been tasked with updating its environmental-justice strategy by next year, according to Zichal.
"I think we agree that the Clinton administration had a great starting point, but we need to double down on these efforts," she says. "I think we all believe that the burdens these communities face are best approached with a collaborative effort built on the strengths [developed] by a team of federal agencies. This is the whole of government approach."
Cord Jefferson is a staff writer at The Root. Follow him on Twitter.