Franchesca Ramsey has never shied away from inserting a poignant social commentary cherry on top of your comedic sundae.
With the viral success of her YouTube video "Shit White Girls Say … to Black Girls," the 2017 Root 100 honoree's comedic flair shot into an entirely different stratosphere. Fresh off her successful run with MTV's edutainment series, Decoded, Ramsey is now able to dip her toes into what she calls "pure comedy,"—but, don't worry longtime fans, there's still a social commentary angle. It is Franchesca, after all. I recently chatted with Ramsey on the phone about her new Comedy Central digital series, Franchesca & Show, being a black woman in comedy, how the comedy industry has changed (and hasn't changed) and, of course, the blackest thing she experienced on the Comedy Central set.

Like a lot of creative randomness, the idea for Franchesca & Show spawned from another project. Ramsey was in the midst of her 2017 pilot with Comedy Central; some of the sketches actually came from that very writing process.

Prior to our interview, Comedy Central let me check out three episodes of Franchesca & Show: "One Big Pile," "Trapped" and "Woke Porn." I have to say my favorite was "Trapped," which was a brilliant comedic turn on the concept of white gay men uttering one of their favorite phrases—"I have a black woman trapped inside of me!"
Ramsey tweeted that the idea came from being the only black person at a wedding and feeling a sense of entrapment. That type of thing is actually what I admire in Ramsey—and any comedic writer for that matter—the ability to observe the generally mundane in life and transform it into something entertaining. I aspire.

G/O Media may get a commission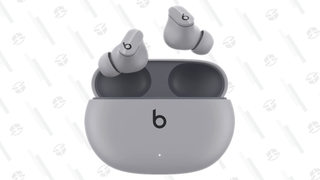 While Ramsey had the most fun shooting "One Big Pile" (they essentially got to film a music video!), Ramsey cites "Woke Porn" as her favorite and most challenging sketch.

"["Woke Porn"] was probably the hardest for me to film because that character is so different from me," Ramsey confirmed. "I am kind of shy! To be on set in booty shorts, a push-up bra and a crop top and there's just a whole house full of production people watching me moan and writhe around on a couch?! I was like, 'Oh my God I can't believe I'm doing this!' But, that's why I wanted to do it. I wanted to do something that was completely different and that someone would not expect to see from me, but could still be really funny and hopefully make them think."

In addition to the fun (and sometimes awkward) experiences on set, I had to ask Ramsey about her blackest experience. Funny enough, it had to do with one of the blackest aspects of a black woman's life: her hair.

"We were [shooting] "Trapped" and we definitely had to do some extra maintenance on my edges," Ramsey recalled with a laugh. "My stylist was looking at the monitors and she was like, 'Uh-uh, these edges are not going to work!' So, she came and laid my baby hairs down and filled them in a little bit." Yes sis, get those edges right! I love us.

Speaking of us…

With upcoming shows like A Black Lady Sketch Show, there seems to be a blossoming renaissance for black women in comedy. Gone are the days when black girls were solely relegated as the token in a writer's room and can now command their own writers' rooms full of black women. Hopefully. As someone who has done the work and had experience in this industry, I had to ask Ramsey: what has changed and what do we still need to work on?

"People are using the internet to tell their stories," Ramsey said. "[The internet] really has made it possible for people who never saw themselves on TV or never got an opportunity to be in entertainment to create work. And we're seeing that start to spill over into mainstream media, whether it's shows like Pose or A Black Lady Sketch Show—we're seeing people across the black community of all different body shapes, sexuality and gender identities getting a chance to get more visibility."

As for improvement, Ramsey truly hopes to see a takedown of homophobia and ableism, noting that more people should check their privilege no matter what background they're from. More media representation of LGBTQIA community members and people with disabilities and normalizing that aspect of our society is a great start. "I hope that I see more of that being addressed in comedy and the media, in general," she concluded.

Same, Franchesca. Same. Because if there's one thing good comedy is, it's smartly self-reflective.

Episodes of Franchesca & Show are now available on Comedy Central's YouTube channel. A new episode will drop Friday, July 26 at 2 p.m., ET.