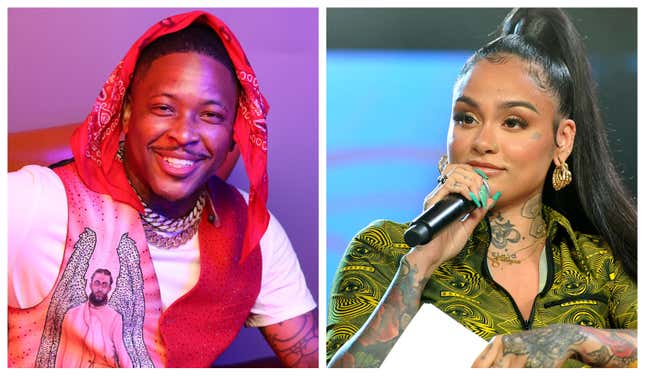 New York Fashion Week is upon us, which means beautiful clothes, beautiful people, and lots of whispers about who showed up with whom, where, wearing what. One such pairing that's gone from whispers to the spotlight is YG and Kehlani, photographed holding hands on Thursday in New York City.

Terry Crews Talks AGT, Hidden Talents, & Falling For A White Chick
TMZ shared a video of the two arriving together at the Kith show; a photographer can be heard asking them if it's "official," to which Kehlani responds "mmmm hmmm."
She later posted a loved-up photo of her and YG on her Instagram page: "Cat's out of the bag," Kehlani wrote.
As confirmation of their relationship status pulsed through the internet, a now-deleted Kehlani tweet added another dash of intrigue to the pair's relationship origin story.
The Oakland, Calif.-based singer and songwriter quote-tweeted a post gushing over the couple. "I just want to know who shot they shot first and said what," Astasia Williams wrote.
To which Kehlani contributed: "5 years in the making."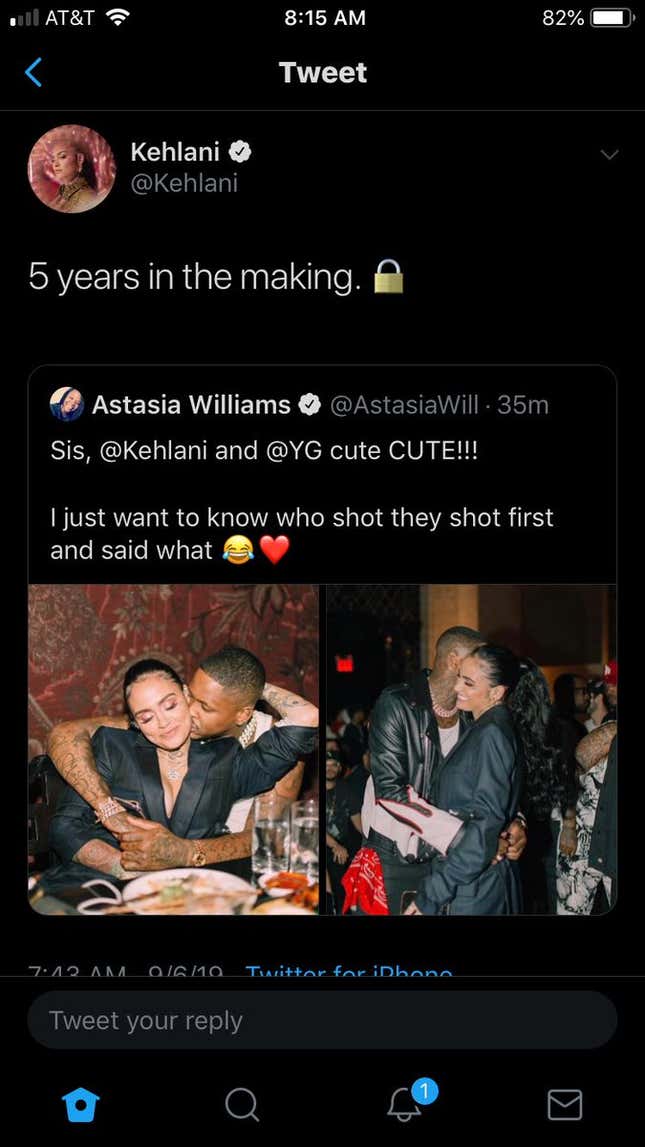 Naturally, some people will pause over the math. Both YG and Kehlani are fairly recent parents: YG's second daughter with Catelyn Sparks was born this past July, while Kehlani gave birth to her first child, Adeya Nomi, with musician Javie Young-White in March. The While We Wait singer was also previously involved with NBA star Kyrie Irving and Canadian singer PARTYNEXTDOOR.
Fans have also pointed to lyrics from YG's song, "Left, Right," in which the Compton, Calif.-based rapper says, "Imma Pisces, she's a Taurus /She said she expensive, well, I could afford it." Kehlani, it turns out, is a Taurus—though the song's 2013 release falls outside of the singer's five-year timeline.
Either way! Slow burns happen—and whatever the case or circumstances, the two look absolutely head-over-heels for each other. While the City Boys were out here playing checkers all summer, Kehlani busted a final Hot Girl chess move.

Anyway, hat's off to the bute bouple.