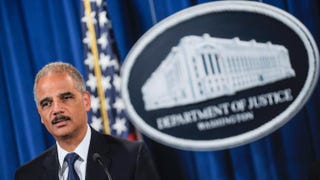 GOP House members are slated to put forth articles of impeachment against U.S. Attorney General Eric holder on Thursday, hoping to remove the head of the Department of Justice under grounds that he has lied to Congress and failed to uphold federal law, Reuters reports.
Texas Rep. Pete Olson was responsible for writing the articles and said that the decision wasn't one made on a whim.
"This was not a decision that I made lightly. Since the House voted in 2012 to hold Attorney General Eric Holder in contempt, the pattern of disregard for the rule of law and refusal to be forthright has only continued," Olson said in a statement provided to Reuters on Wednesday. "The American people deserve answers and accountability. If the attorney general refuses to provide answers, then Congress must take action."
While such a resolution could easily breeze through the GOP-led House, it is unlikely that the Democrat-run Senate will ever let it through. 
However, tensions run increasingly high between the top law-enforcement official and Republicans, Reuters notes.
Holder has been found in contempt of Congress before, in 2012, when he refused to give a congressional committee subpoenaed documents regarding Operation Fast and Furious and the Department of Justice's involvement in the gun-walking probe, which attempted to bring down a Mexican drug-cartel leader and failed.
According to the outline, one of the impeachment articles is based on this very same operation. Other articles touch on conservative ideological topics such as Holder's refusal to enforce same-sex-marriage laws and not prosecuting IRS officials for targeting conservative political activists.
Read more at Yahoo.