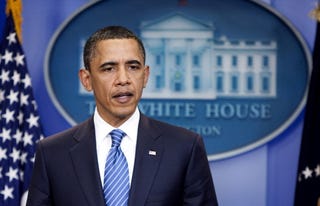 Donna Cassata of the Associated Press is reporting that "war-weary" lawmakers have sent a strong message to President Obama about ending the war in Afghanistan, as the commander-in-chief prepares to determine how many U.S. troops to withdraw this summer.
A measure requiring an accelerated timetable for pulling out the 100,000 troops from Afghanistan and an exit strategy for the nearly 10-year-old conflict secured 204 votes in the House, falling just short of passage but boosting the hopes of its surprised proponents.
Cassata reports, "It sends a strong signal to the president that the U.S. House of Representatives and the American people want change," Rep. Jim McGovern, D-Mass., said shortly after the vote. President Obama will begin withdrawing troops in July, but some lawmakers are worried that either he won't withdraw enough troops to reflect the death of Osama bin Laden or troop withdrawal won't put a dent in the price tag, which is costing $10 billion a month.
An Associated Press-GfK poll earlier this month found that 59 percent oppose the war and 37 percent favor it, with significant support for Obama's plan to start removing troops this summer.
If you can't get behind ending the war from a peace perspective, then perhaps one should think about the $10 billion that is being spent per month to keep it going. Wars are supposed to stimulate economies, and clearly that is not happening. This country could use some of that money for the people here, instead of slashing services that the elderly and the poor need. We'd like to think that saving the lives of our troops — who have been at risk serving in a war based on misinformation, or outright lies — for more than a decade would be a top priority.
Read more at Yahoo News.
In other news: Candorville: No Check Please.