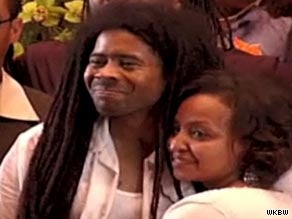 Holding the body of the son he'd lost in a terrible car accident, Amilcar Hill looked across the room at his long-time girlfriend Rahwa Ghirmatzion and proposed.
They had been together for years, raising their son Asa together in Buffalo, always putting off marriage because it seemed "superficial and unnecessary."
But it wasn't to their son. He'd always wanted to see their union made official.
Now, though their son would not be able to witness it, the time seemed right to make it official. From CNN:
While holding his lifeless son in his arms at the hospital, Hill was moved to finally officially propose to his lifelong partner.

"Rahwa was overwhelmed at that moment and just looked at me. When the family sat down to plan the funeral service, she said 'Let's get married.' And everyone broke down at the table," he said.

The marriage took place after a service filled with African drums, dancing, sermons and family and friends sharing memories of Asa, all in celebration of his life.

Miller said about 1,100 people attended the service, with hundreds overflowing onto the church lawn, where sound systems were set up so they could hear the service. When the wedding was announced, there were shocked cheers and applause from those in the church pews.

"We wanted it to be a surprise," Hill said. "We knew it would be a joyous moment. You could see how it lifted them, and we figured, why not make it a surprise at the end."
If that doesn't move you, we really don't know what does.