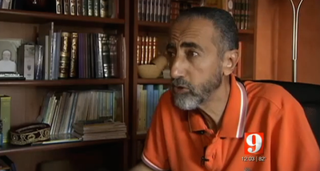 Members of an Orange County, Fla., Muslim family are shaken after their home was shot at following the terrorist attacks on Paris, prompting fears for their safety because of their religion, WFTV reports. 
Homeowner Amir Elmasri, who is listed as Mohmoud Elmasri in the sheriff's report, says he and his family were not home when the shooting occurred likely sometime between 8 a.m. and 10:20 a.m. Sunday. Elmasri found a hole in his garage door from a bullet that traveled into a wall inside the house before stopping in a dresser drawer in his bedroom. 
Orange County sheriff's deputies have determined that a total of three shots were fired at the home, according to the report, resulting in an estimated $800 in damage. 
Other than religion, Elmasri says he has no other idea what would lead someone to attack his home. "We are as peaceful as any American family," he said. "I mean, why would you shoot at my garage?"
He says now his family is terrified, wondering if it could happen again when someone is inside the home. "They feel unsafe now," he said. "Why somebody is shooting at us; what did we do?"
No suspects have been named in the case, and authorities say they have found no evidence that it was a hate crime. Elmasri, for his part, says he plans to press charges if anyone is ever taken into custody. 
"They are making my religion bad," he said of the terrorists who attacked Paris. "The people who do it happen to be Muslims, but with the wrong idea.
"So, just like the sick people here who shoot in theaters, they happen to be sick, but we don't blame it on the religion," he added. 
Read more at WFTV.