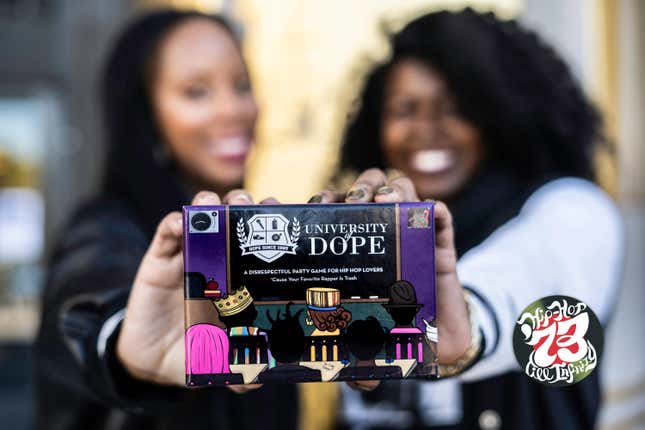 This story is part of our new Hip-Hop: '73 Till Infinity series, a celebration of the genre's 50th anniversary.

We love Spades. But wouldn't it be way more fun to argue about the best Kanye album? Because everyone knows it's Late Registration, of course. Now there's a game that lets you do that and more. And in honor of the 50th anniversary of hip-hop, I couldn't wait to try out the game and meet one of the creators.

My Hip-Hop Story: Sway Calloway Felt Like a Superhero Living Through The Genre & Culture's Early Years
University of Dope brands itself as the first card game dedicated to hip-hop culture and is the brainchild of friends and hip-hop enthusiasts A.V. "$upreme" Perkins and Marian "Skinni Bee" Andoh-Clark. I caught up with Perkins to learn more about the idea she says was born when she asked Andoh-Clark if she could name all of the members of the Wu-Tang Clan while drunk.
"She said yes, but I didn't believe her. There's a lot of people in the Wu-Tang," Perkins laughed.
The pair thought the challenge would make a fun game. But when they Googled "Wu-Tang drinking game," much to their surprise, their search came up empty. That prompted the friends to think the idea was something they needed to develop themselves. And the result is something out of a B-Boy/Girl's dream.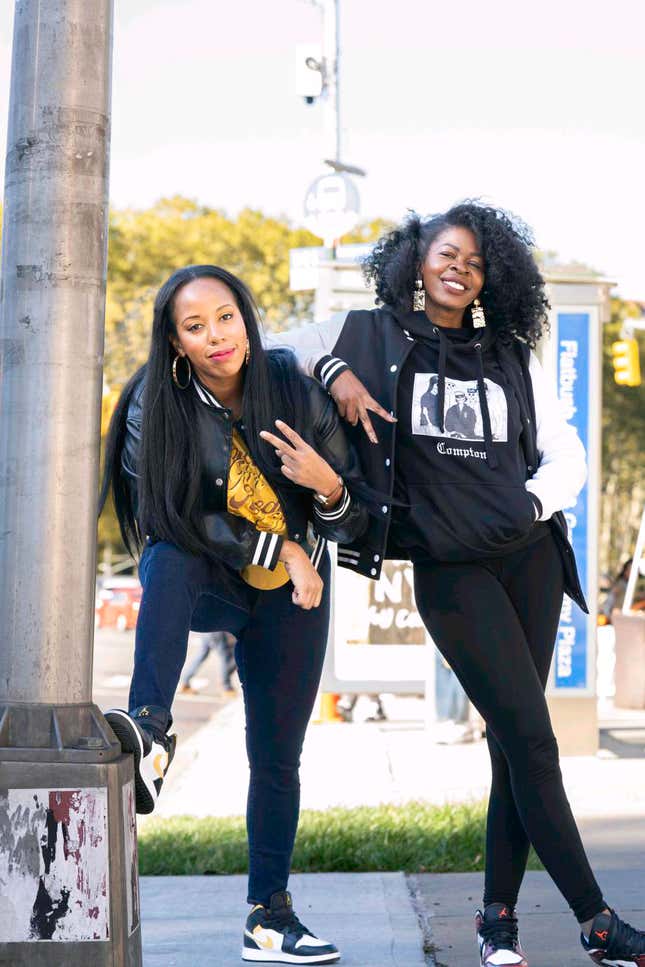 How to Play
University of Dope is all about hip-hop culture and the full experience requires a minimum of three players. Each takes turns pulling cards and answering questions like this one:
Erase one person from hip-hop history:
A. Swizz Beatz
B. Dr. Dre
C. Pharrell
D. Timbland
And while I had no problem giving Swizz Beatz the boot, one of my playing partners said Pharrell—without hesitation. That left me wondering how many relationships this game has ruined.
"People do get passionate about it. They've told us they've brought the game to first dates, so we look forward to the first U Dope wedding or divorce party," Perkins laughed.
Do You Have to Drink?
As you can probably already imagine, sippin' on a little somethin' makes this game a lot of fun. But I can report that I played for the first time in my office, without drinks and still had a good time. Although most players opt for "Thug Life" (answering questions for shots or drinks), there is the option to play the game "Big Willie Style" instead (for points, without drinking).
"We leave things open-ended. You can still play if you're on your Stylez P, Swizz Beatz wheatgrass flow. I love kombucha myself," Perkins said. "There is language in the game that tells you to take a drink, but you don't have to."
Who's on Your Top 5?
I couldn't end a conversation with someone who created a game about hip-hop without asking for their list of top five MCs.
"I have to preface this by saying, 'I said what I said.' I like delivery more than anything else. I will listen to Jadakiss rhyme the phonebook versus Common rhyming about the meaning of life," Perkins said confidently. She then launched into her top five in no particular order: Notorious B.I.G., Jadakiss, Lil' Kim, Method/the WuTang and Drake.
And just when I was ready to blurt out, "Are you kidding me?" at the thought of Drake on a top five, Perkins was ready with a pretty decent argument to include him.
"He gave us ten years. I think with Drake, we just lost the concept of time. Biggie only has two albums, and Drake has been performing hits half of Biggie's life," Perkins said. "I think people disregard him because he makes songs for women. He's like a more up-to-date L.L. Cool J."
Do Freestyles Matter?
As someone who always makes room for Black Thought in my top five, I had to ask Perkins if a rapper's ability to freestyle should be a deal breaker when it comes to top five status.
"There are so many people who bring so many different spins to it. That's why everyone's top five is going to be different. It all depends on what you like. That's the beauty of hip-hop. You can see what others bring to the culture as it evolves. Some people do a good job blending hip hop and R&B, some have amazing delivery and punch lines," she said. "Fabulous is great with current events and punchlines and makes you feel like you're listening to the newspaper. This smog we're dealing with right now is going to be on the next mixtape. Like, 'I keep it hazy like New York.' He's going to do that."
Check out University of Dope at their website.