Let's go down memory lane for a bit.
Twenty-eight years ago marked the release of MC Lyte's seminal debut album, Lyte as a Rock. It was hip-hop's first meaningful album from a female emcee.
Twenty years ago marked the release of Bahamadia's Kollage, the best hip-hop album ever from a female rapper. With the help of D.J. Premier, Da Beatminerz and the Roots, the Illadelph rapper crafted a nearly profanity-free classic during hip-hop's renaissance.
Twenty years ago marked the release of Fugees' The Score, which contains the greatest verse ever spit by a woman on wax: Lauryn "L-Boogie" Hill's verse on "How Many Mics." And there's a ton of competition on that one album.
Nineteen years ago marked the one-two punch of Lil' Kim's Hard Core and Foxy Brown's Ill Na Na dropping just one week apart. Both rappers' increasing popularity at the time resulted in an organic competition to determine the reigning hip-hop queen of the five boroughs. (Both are dope, but Hard Core is a classic and has the best booklet art of all time.)
One more: Sixteen years ago marked the release of Rah Digga's debut album, Dirty Harriet. It was the last time a female emcee released a full album that was truly banging.
G/O Media may get a commission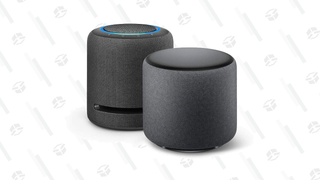 25% off - Prime Exclusive
Echo Studio + Echo Sub Bundle
Now, I'm getting old, so I realize I forget things from time to time. So someone help me out—what meaningful impact has the double-X-chromosome set made in hip-hop in the past decade and a half?
Even if you're a stuck-in-the-'90s n—ga who can't appreciate any new rapper whose name doesn't rhyme with Schmendrick Flamar, you can come up with at least a half-dozen bona fide classic albums from male emcees that dropped since 2000. The only semirecent output from a woman that tickled hip-hop junkies is Nicki Minaj's career-making verse on Kanye West's "Monster" in 2010. And even that s—t is overrated.
No one with good sense would attribute this gap to female emcees being inherently inferior to their male counterparts—Hill and Rah Digga in their primes would carpet bomb 2,371 percent of rap n—gas in 2016. I would sooner attribute it to the gender bias that has always existed within the genre and culture.
Just look at the tape: Ladies of the golden era—including Lyte, Roxanne Shante, YoYo and Queen Latifah—created legitimate classic records and albums before the turn of the 1990s ushered in an invidious trend of sexually marginalizing women in hip-hop that blights the genre to this day.
N.W.A, Uncle Luke and the 2 Live Crew, in addition to early Death Row classics, stoked the fires of misogyny in hip-hop, as well as the trend of hypersexual female rappers. Women in "urban" music got progressively more naked, and their lyrics raunchier to match their male counterparts. Even Salt-N-Pepa and TLC—acts that typically empowered women—started shedding clothing in their videos, to great financial success.
By the time Kim and Foxy came around, bars and butt-nakedness were kindred. Around the turn of the century, all the rap "supergroups" had a token bad chick who looked good in knickers and could deliver some serviceable, often ghostwritten, bars.
Kim and Ruff Ryders' Eve were among the more talented of them, but only one of them has anything near a classic. There were also Amil, Charli Baltimore and Vita (aka the jailbait from Belly), all of whom you probably completely forgot about until you read this sentence, and all of whom are probably working hard to get past lettuce and fries to make assistant manager. Because that's where the big bucks start rolling in.
Hill, who's been dragged to hell and back lately, was sui generis in 1990s hip-hop: She could spit, sing and was sexy without being a walking ad for Lovers Lane. Insert one of those "kids these days will never know" memes here.
In contrast, Minaj and Iggy Azalea are the only two contemporary female rappers in the world that your average teenager can name, which is a tragic testament to women's role in the culture today. It's like our only two options are a habanero hot sauce colonic and being locked in a room with Tamar Braxton reading Dostoyevsky aloud.
It's pretty clear to me that Minaj is truly popular for her fashion sense and her insane, maybe-real, maybe-not, waist-to-ass ratio.
Of course, Azalea is a hip-hop succubus who successfully tapped into that apparently large demographic that enjoys a pretty white girl who can do the hippity-hop at the barest of minimums. Every time "Fancy" plays, I drop to my knees and say 10 Hail Marys and 20 Our Fathers, wherever I'm at.
While there will likely always be women rapping about y'all sorry n—gas eating the box and liking it, it seems like a lot of the newer female rappers have placed a renewed focus on lyricism, on trend with their popular male counterparts like Kendrick Lamar and J. Cole. But none of them are getting a lot of push in the mainstream or the underground, and this is from a guy who actively seeks under-the-radar music that most of y'all don't bother with.
I combed through several "lady rappers about to blow" articles over the past couple years for this piece, and none of them actually blew. We've been waiting forever for Angel Haze to get real shine, but I tend to forget she exists. Jean Grae has perennially been on every about-to-blow list for a decade, but she only appeals to the hardcore, backpack-and-camo set. DeJ Loaf, despite her heavyweight industry connections, is chillin' somewhere in a time-share in One-Hit-Wonderville.
No one from 2007's Ego Trip's Miss Rap Supreme even has a Wikipedia page, outside of one-hitter-quitter Khia. Azealia Banks … ? Will. Never. Chart. Again. Ever. Bre-Z, aka Freda Gatz, is a real-life rapper portraying a fictional rapper on one of network television's hottest shows of the past decade; can you name one Bre-Z song?
Rapsody is my favorite female rapper right now—the heiress apparent to some of my favorite underground female rappers from the early 2000s, like Invincible, Eternia and N'jeri Earth. But I'm still waiting on her to cut the truly memorable album I know she's capable of.
I am not sure what it would take to get the world caring about a dope lady emcee with a fantastic flow, awesome content and immaculate beat selection in 2016. Or maybe that's the issue: The female version of Good Kid, m.A.A.d. City simply hasn't been done yet.
One thing's for certain: When Views is the fastest-selling female rap album of the decade, something needs a-changin' soon.
Dustin J. Seibert lifts heavyweights and plays all his video games on hard mode to find peace. He has a better ear for hip-hop than anyone else you know. You can find more of his work at VerySmartBrothas.com.