Eazy-E
Justice Smith Talks New Dungeons & Dragons Movie, The Get Down On That's So Random
The late rapper's alleged right-leaning politics were famously ridiculed in the Game's 2006 track "Dreams," with a line about Jheri curl juice "drippin' on Ronald Reagan's shoes." But the GOP had Eazy-E's back. Three years after he released "F—- tha Police" with N.W.A, the National Republican Senatorial Committee invited him to a 1991 luncheon honoring President George H.W. Bush. The rapper, whose attendance was requested because of his charity donations, wore a black leather suit to the event.
Captions by Cynthia Gordy
Sister Souljah
G/O Media may get a commission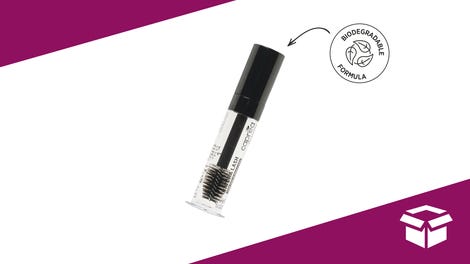 It's $8
20% Off Lash + Eyebrow Serum 2.0 - Caprea Beauty
President Bill Clinton invented the proverbial "Sister Souljah Moment" during his 1992 presidential campaign, in a clumsy attempt to distance himself from the Rev. Jesse Jackson. Speaking at Jackson's Rainbow Coalition conference — where Sister Souljah, then an M.C., had also been invited to speak — Clinton slammed interview quotes and song lyrics from the hip-hop activist that he perceived as racist. Jackson and others disapprovingly accused Clinton of twisting her words to score points with white voters.
John Forte
The rapper and former Fugees producer was one of 16 people whom President George W. Bush granted pardons or reduced prison sentences at the end of his second term. Forte had been serving a 14-year sentence after a 2001 conviction for cocaine possession with intent to distribute. Thanks to the efforts of singer Carly Simon, who argued that Forte had not received a fair trial, Bush commuted the remainder of his time.
Will.i.am
After his pro-Obama song and video, "Yes We Can," went viral during the 2008 campaign, the Black Eyed Peas front man performed it with John Legend at the Democratic National Convention, the same night Barack Obama officially took his position as the party's nominee. The song won an Emmy — and Obama won the election.
Jay-Z
While in Washington, D.C., to perform a show last year, the M.C., joined by Beyoncé and Trey Songz, swung by the White House. The group shot a keepsake photo from the Situation Room as part of their West Wing tour and enjoyed a brief visit with President Obama, a self-professed Jay-Z fan who, during a campaign speech, not so subtly referenced the song "Dirt Off Your Shoulder."
Lil Wayne
During a Pittsburgh radio interview last year, former President Bill Clinton was asked what he thought about Lil Wayne's upcoming release from jail. "This guy's smart, and he's got abilities," Clinton said encouragingly. "And he's got a new chance now. What I hope is that this is not just something to brand him as a cool guy, but that it'll never happen again to him."
Kanye West
Five years after the "Jesus Walks" rapper said, "George Bush doesn't care about black people" during a televised fundraiser for victims of Hurricane Katrina, the former president was still fuming. In a 2010 Today-show interview, West showed remorse for having made the statement in "a situation of high emotion." Although Bush repeatedly referred to him as "Conway" in a follow-up Today segment, he also said he appreciated the quasi-apology.
Common
Fox News, Sarah Palin and other conservative voices were shocked that the White House invited the Chicago rapper-actor to a Wednesday event celebrating American poetry. Despite his steady repertoire of positive, socially conscious songs, including "Retrospect for Life" and "The Light," conservatives predictably decried lyrics depicting support for Mumia Abu-Jamal, referencing guns and expressing anti-Bush sentiment. The unfazed first couple stood by their hometown guest.