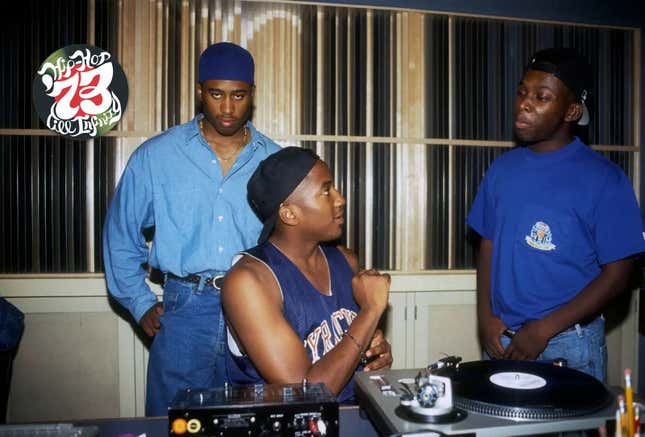 This story is part of our new Hip-Hop: '73 Till Infinity series, a celebration of the genre's 50th anniversary.

I can still remember the first time I ever heard A Tribe Called Quest's 1991 joint, "Check the Rhime." 

Cedric the Entertainer Shares Details Of His First Crime Novel & Tackles Our Random Rapid Fire Questions
As a Queens native, my 15-year-old self was struck not only by Q-Tip—also known also as The Abstract—and his reference to "the boulevard of Linden," but also by the accompanying bassline and horns beneath his words. Thanks to his musical genius—as well as that of his groupmates, Ali Shaheed Muhammad and the late "Five-Footer" Phife Dawg—these elements ushered in what would later become my love affair with A Tribe Called Quest (especially their sophomore album, The Low End Theory), Hip-Hop as a whole and the art of sampling.

Unbeknownst to me, that mesmerizing bassline was borrowed from Minnie Riperton's 1975 song, "Baby, This Love I Have," while the horns came from Average White Band's 1976 b-side, "Love Your Life." The drums came from Grover Washington Jr.'s 1975 song, "Hydra," as well as from Dalton & Dubarri's 1976 song, "I'm Just a Rock N' Roller," according to Genius.
A Tribe Called Quest's discography alone serves as a grand example of how sampling, when done with intention, can cultivate an entirely new and unique sound that bridges generational gaps in music and transcends the lines of genre.

At its core, sampling uses portions of preexisting songs in order to create something new. This ranges from pulling a song's melody or rhythm and transforming it with modern-day elements to looping preexisting vocals for a song's hook. This differs from remixing, which maintains the larger elements of a particular song, such as the lyrics, yet changes or adds to the song's structure or production.

J Dilla, Kanye West, DJ Premier, 9th Wonder, Dr. Dre and Diddy are a few examples of hip-hop producers known for their ability to pull elements from past sounds and transform them in unique and, at times, unexpected ways. Diddy was recently rumored to have paid rock legend Sting $5,000 a day for the use of The Police's "Every Breath You Take" in the 1997 hit "I'll Be Missing You," but this has since been debunked. Nevertheless, the practice of sampling predates the existence of hip-hop.

Along with his associates at the Studio d'Essai, which translates to "Experimental Studio," French composer Pierre Schaeffer created a technique that used recorded natural sounds to create a new musical composition in 1948. This experimental technique, known as "musique concrète," was one of the first instances of flipping preexisting sounds.
By the time hip-hop came around, the use of drum breaks became a common practice. In the early 90s especially, DJs used the short, instrumental and often percussive portions of funk records from the 70s and 80s to hype the crowd, prolong dance breaks and, most importantly, give the "Master of Ceremonies," or MC, a tight beat to rap over.

According to WhoSampled, the drum break in James Brown's 1970 hit "Funky Drummer" has been sampled 1,778 times, making it the fourth most sampled song of all time. The No. 1 most sampled song is the 1969 single "Amen, Brother" by The Winstons, which has been sampled 6,086 times.

It's also important to note that sampling transcends hip-hop. Take Ariana Grande's 2019 song, "break up with your girlfriend, i'm bored," for example, which samples NSYNC's 2000 song, "It Makes Me Ill." Beyonce's 2003 hit "Crazy in Love" samples the Chi-Lites' 1970 song, "Are You My Woman? (Tell Me So)," while her 2022 hit "CUFF IT" samples Teena Marie's "Square Biz," which came out in 1981, and Chic's "Good Times," which came out in 1979.

On the surface, it might seem as though the use of samples might incentivize producers to approach their craft lazily. In reality, sampling requires skill, creativity and an ear for the illest sounds. Some, of course, seemingly "sample the sample," adding nothing more than a few adlibs and some 808 drums to an already-popular beat. Coi Leray's 2022 single "Players" is an example of a song that seems to do this, as the production sounds similar to Diddy and Mase's 1997 single "Can't Nobody Hold Me Down." In reality, both songs sample "The Message," a 1982 hit by Grandmaster Flash and the Furious Five. Either way, this occasional practice does not invalidate the long-standing tradition of tasteful sampling.

In the music game, we certainly have love for artists like Prince, who vied to have complete artistic control over his sound and steered clear of sampling. At the same time though, we can certainly appreciate the artists and producers who know just what sound from a 70s or 80s classic might resonate with modern audiences.
Sampling serves almost as a history lesson, giving listeners a taste of what past hitmakers did to make our mothers and fathers move their feet. When it's done tastefully, sampling becomes its own art form—and in the words of both The Abstract and The Five-Footer, it's "on point."
Cory Utsey covers music and culture. She was previously a reporter for HUNewsService.com.