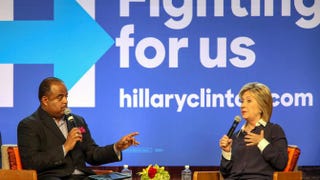 Democratic presidential candidate Hillary Clinton proposed reclassifying marijuana to allow research into medical use of the drug, according to NewsOne.
Clinton noted that several states have legalized marijuana, and she would like to see how it works there before taking that step at the federal level.
"The problem with medical marijuana is that there's a lot of anecdotal evidence about how well it works for certain conditions, but we haven't done any research," she said Saturday at a town hall meeting at Claflin University in Orangeburg, S.C., hosted by the South Carolina Legislative Black Caucus and moderated by NewsOne.
Clinton explained that marijuana is currently classified as a Schedule 1 substance. It's in the same classification as narcotics like heroin and LSD. Schedule 1 drugs have a high potential for abuse but no medical use. Making marijuana a Schedule 2 drug would open the door for research.
"Researchers at universities, at the National Institutes of Health, could start researching what's the best way to use it, how much of a dose does somebody need, how does it interact with other medications," she added.
As the Washington Post reported, Clinton had long declined to support federal legalization of marijuana for medical or recreational use. She joins her rivals for the Democratic nomination, Sen. Bernie Sanders and former Gov. Martin O'Malley, who call for removing marijuana from the Schedule 1 list.
Sanders proposed legislation last week to reclassify the drug.