Christopher Wheeler, 10, of Montgomery, Ala., was headed to an area scrapyard Thursday with an elderly neighbor, who goes by the name "Mr. Mitch," when the 70-year-old driver began having a diabetic seizure and lost control of the wheel.
Beyoncé's Feminist Anthem "Run the World (Girls)" A Decade Later
"He got sick and he was swerving across the road," Christopher told WSFA. "He started getting sweaty and said he needed a piece of candy."
As the car began heading toward oncoming traffic, the third-grader grabbed the wheel and steered the car to safety.
According to the news station, Christopher and his neighbor, whose real name is Alfred Smith, were on Interstate 65 when the driver began fading in and out of consciousness.
G/O Media may get a commission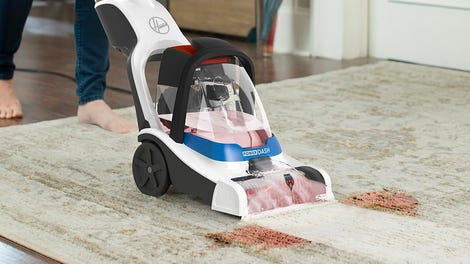 26% Off
Hoover PowerDash Pet Compact Carpet Cleaner
Special Agent Eric Salvador, with the state attorney general's office, was heading north on the interstate when he noticed the truck weaving and running cars off the road.
"It almost hit the center wall several times," Salvador told the news station.
Salvador turned on his police lights to try to get the truck to pull over, to no avail. Because the truck bed was filled with items, Salvador couldn't see who was inside the truck. Other officers, including Senior Trooper Lee Walls, joined in the pursuit, which reportedly lasted some 10 miles, according to the news station.
The truck finally pulled off the interstate and came to a stop, and police were shocked to learn who had taken the wheel.
"I didn't want us to die," Christopher said. "The police were behind us the whole time with their lights on. I told him to stop, and he kept going. I put my foot on the brake, and I got the steering wheel and pulled it over and put it in park."
When police approached the truck, a terrified Christopher told them he wanted to go home.
"I'm speechless because he saved a lot of lives. From what he told me about what happened, there could have been accidents. They could have been hurt or killed or someone else," Mary Lee, Christopher's great-aunt, told the news station. "I'm so proud of him. He likes to work and likes to help people. This is something he does all of the time."
Mr. Mitch is reportedly doing well and is in good condition, the news station reports.
"Without the heroism of that child, I think they would have crashed off the road or into another vehicle. I think he saved a lot of lives out there," Salvador told the news station. "I've been in law enforcement eight years and I've never seen anything like this."
"I have an 11-year-old son, and I'm not sure he would have been able to do that. I was very impressed," Walls said. "I think he's a hero and he probably saved some lives—his own, the driver and those in oncoming traffic."
Christopher told WSFA that he's considering a career in law enforcement.
"I want to help people," he said.
Read more at WSFA.