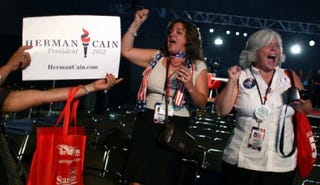 Can Herman Cain win the 2012 Republican presidential primary? Probably not. But it's mighty interesting that he just beat so-called front-runners Rick Perry and Mitt Romney in today's Florida straw poll.
The former CEO of Godfather's Pizza won the test of conservative strength with roughly 37 percent of the vote. Texas Governor Rick Perry came in second place, followed by former Massachusetts Governor Mitt Romney, who did not actively compete in the event. Here's a full breakdown of the results:

Herman Cain: 37.11%          Rick Santorum: 10.88%          Jon Huntsman: 2.26%
Rick Perry: 15.43%             Ron Paul: 10.39%                   Michele Bachmann: 1.51%
Mitt Romney: 14.00%          Newt Gingrich: 8.43%

Perry had been expected to win, but perhaps Florida's Republican voters like Cain's proposed "9-9-9 Plan" (oooh, don't turn that one upside down), which would tax businesses, personal income and retail sales all at 9 percent. Or maybe they're just not all that impressed with Texas swagger.
In other news: Possible Government Shutdown Looms.
Sheryl Huggins Salomon is senior editor-at-large of The Root and a Brooklyn, N.Y.-based editorial consultant. Follow her on Twitter.