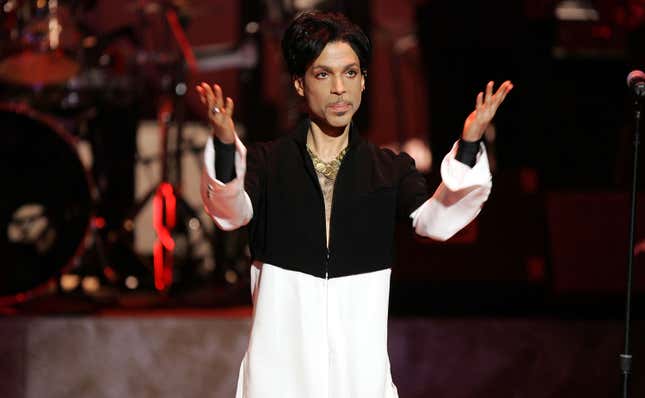 Prince's influence on music and Black culture can't be measured. He touched so many lives with his art, his legacy is endless. In Minnesota, his home state, he will always be a legendary figure. On Thursday, the state honored his contributions by naming a highway near Paisley Park after him. Per WCCO, the area encompasses "a 7-mile stretch of Highway 5 in Chanhassen." There are two purple signs on each side of the road indicating that drivers have reached Prince Rogers Nelson Memorial Highway. I'm gonna stop you right there, because no one is interested in your "Little Red Corvette" jokes.
Tackling A Black Maternal Health Crisis & Embracing Reproductive Justice | The Root Institute
On Thursday, a ceremony where the Minnesota Department of Transportation revealed the signs was attended by Prince's friends and family, as well as the state legislators who passed the bill to get the highway renamed.
"You know Prince's DNA is all up and down this highway, right? For so many years, he really was," Prince's sister Sharon Nelson said. "And we're going to remember every time we pass this way every great song he ever made. 'Purple Rain,' number one, that is his signature tune. And we're going to remember them every time we pass this highway."
The Department is strongly urging drivers not to pull over and take photos with the sign. There's a trail near Paisley Park that leads down to the location. Of course, we all know people won't listen to that and there's going to be a lot of traffic incidents taking place. And before you start complaining about tax dollars, the signs were paid for by Mark Webster, a private citizen who knows the family and is an employee of Paisley Park.
"This is my job," Webster said. "I never worked for him but I think I'm working for him now, so I'm trying to do the best I can in his honor to make things right."
This is amazing because Prince deserves all the flowers. Honestly, I'm a little jealous, so consider this the start of my campaign to get a Prince Highway in all 50 states. Give the people what they want.