Gary Golio (writer), Javaka Steptoe (illustrator)
Jimi: Sounds Like A Rainbow: A Story of the Young Jimi Hendrix (Clarion/Houghton Mifflin Harcourt)
Author Gary Golio and Coretta Scott King Award-winning illustrator Javaka Steptoe have created a lyrically and visually rich book that explores the future guitar god's vivid imagination as a child. Steptoe's work is all the more impressive when you consider that it was done as collage, using plywood as the main pieces.
The book focuses on Hendrix's rise to fame, specifically on his childhood in Seattle. This is Hendrix before he was Jimi, before his musical vision, technical abilities and technology came together to enable him to forge a sound that would rocket him to the top of the pantheon of guitar gods.
What the book does well is drive home the point that Hendrix had a vibrant inner life, long before he became a star. Stories about Hendrix tend to focus on the things he did — his accomplishments as a guitarist and artist. Certainly, we know he was expressive and sensitive, but here we see him struggling to connect the sounds he hears to the colors that, in his mind, correspond to them: "With every sound, a color glowed in Jimmy's mind. Blue was the whoosh of cool water, splashing over rocks. Orange and red, the crackling of a campfire. Green, the rustle of a thousand leaves."
This recently released children's book, targeted to grades 4 to 8, is a great read for budding music aficionados everywhere.
G/O Media may get a commission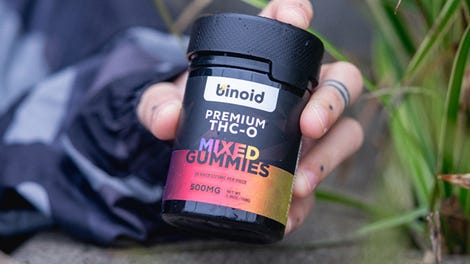 25% Off + Free Shipping
Binoid THC-O Gummies
California King
La Belle Epoque (New Boy Records)
I met California King back in 2008, when they were just out of the gate. They were, like a lot of bands just starting out, tentative in their performance. That said, they clearly had a lot of potential, which is why they made it onto the Boldaslove.us compilation album with their track "On Planet Earth," which was taken from their debut album, Adoration of the Boogie Bear.
Fast-forward to 2010, and on their new album, La Belle Epoque, it's clear that they've come a long way. They're still kicking out strong, well-written songs channeled through lead singer Mike Mills' yearning vocals. What's different now is the noticeable fire that propels their songs. And, on top of it all, it sounds like they're having fun!
"Homicide" is a well-placed ballad that gives the listener a bit of a break by creating more musical space than is present when the trio is going in hard on a song. There's something about the mood of "Higher Plane" that reminds me of "Higher Purpose," a song Nona Hendryx contributed to the sound track of the Showtime series Sleeper Cell. Both songs do a great job evoking the spiritual. And, in something of a departure from the trio setup, a Junior Walker-style saxophone joins the bar rocker "Bobby Burns."
It's clear the band has a good recipe working: First, there are the smart lyrics — such as this line from "Lingering": "The winter left you cold/Cuz the fall opened up your nose/It was over and done by Christmas Eve." Second, the trio is tight; two years of gigging proves there's no shortcutting the process of learning to work together as a unit.
California King do themselves proud, and here's hoping that for this band, the new year turns out to be a beautiful era, indeed.
Chocolate Genius, Inc.
Swansongs (One Little Indian US)
I finally figured out what my problem is: I hear and see an amazing songwriter and performer like Marc Anthony Thompson, and it's hard for me to take dreck like Raheem DeVaughn's "She's Single" or Keri Hilson's "Pretty Baby Rock." Thompson's talent and abilities are on full display on his latest album as Chocolate Genius, Inc., Swansongs.
Thompson released a couple of albums in the late '80s under his own name before releasing Black Music in 1998 under the Chocolate Genius moniker. Subsequent releases, Godmusic and Black Yankee Rock, also highlighted the fact that he's a musician's musician. His collaborators include folks like Sade's Stuart Matthewman, as well as prominent New York musicians such as Marc Ribot, Oren Bloedow and Meshell Ndegeocello, among others.
He won an Obie Award for sound design in 1997 for his work on Roger Guenveur Smith's A Huey P. Newton Story, and has written music for films like American Splendor, Urbania and Twin Falls Idaho. In 2006 he toured with Bruce Springsteen.
Swansongs is aptly titled, since it will be his last as Chocolate Genius. The concept, he's noted during interviews, was originally conceived of as one with a short shelf life. Now he feels like it's time to retire this alter ego.
But what an album to go out on!
Swansongs is a quiet album. Yes, there are head-nod-inducing tracks such as the aforementioned "Enough for You," the drunk-stupor-approximating "Lump" or the gospel-inflected "When I Lay You Down." But more often than not, the album tends toward quiet intensity and a spaciousness that puts the song lyrics on equal footing with the music. Under the headphones, you can hear that he plays with background soundscapes. It creates an intimacy that, I'm guessing, he wanted to carry over from his live shows. Check out the vaguely typewriter-like sounds in the background of moving, elegiac "Like a Nurse."
"Sit and Spin" was recorded on the last day of his father's life, and it's all the more poignant coming after "Mr. Wonderful," a collection of voice mails that his dad left for him over the years. His ability to create moments such as these makes you want to check on your kids or call your parents.
Chocolate Genius Inc.'s Swansongs shows us that, at its best, there is power in stillness. What we feel are songs that have an internal power driven by song craft and quiet confidence. All of which stands in stark contrast to the frenetic, slickly produced, yet empty work that's only designed to gin up controversy and generate Youtube views.
But there's hope. In fact, there always has been. To a list of contemporary songwriting talents that would include Stew (of Passing Strange), Little Jackie's Imani Coppola, genre-busting rocker Tamar-kali and stalwarts the Family Stand, among others, Marc Anthony Thompson — in whatever guise he chooses — is a welcome addition.
Rob Fields writes about black rock and black alternative music and culture on his blog, Boldaslove.us. Follow him on Twitter.