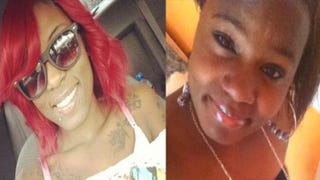 As the families of two Florida teens struggle to come to terms with their brutal deaths, they also find themselves in a struggle to pay for proper burials for the girls found dumped like trash on the side of a road.
An online fundraiser has been established at YouCaring for Angelia Mangum, 19, and Tjhisha Ball, 18, both of Tampa, Fla. Their bodies were found Sept. 18 in Jacksonville, Fla., naked and tied together in a pool of blood on the side of a street. The page was established by Everyday Whorephobia, an activist group for sex workers.
"We refuse to let these two deaths go quietly into the night as two more on the list of black women who are slain and … their murders go unnoticed," the fundraiser page states. "We refuse to allow the public persecution of the victims of violence. We refuse to let their families suffer alone and without help."
The group, which is working with law-enforcement officials and a funeral home, is trying to raise $17,000 to help pay for funerals for the teens, the page says.
Tjhisha and Angelia met as teenagers and became close friends, working together at exotic dance clubs in Jacksonville, reports say. Police investigations in the case continue.