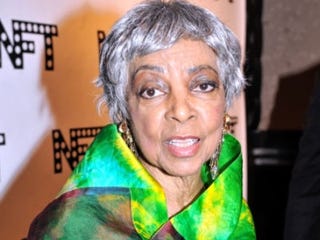 Just the latest reminder that you can't believe everything you read on Twitter: Despite what social media might have made you believe for a minute there last night, 87-year old actress and civil rights activist Ruby Dee is alive and well.
Today a representative corrected false reports that apparently resulted from confusion between her name and that of rapper Heavy D, who died in Beverly Hills, Calif., on Tuesday at age 44. And her son-in-law, Bill Day, assured New York's Daily News, "As sure as I'm breathing, nothing has happened to her."
The mix-up took off when the Rev. Jesse Jackson spread the "news" of Dee's death and her name became a trending topic on the social network.
Shortly afterward, Jackson corrected his post. "The news of the passing of Ruby Dee HAS NOT BEEN confirmed," he tweeted, and urged his followers to pass the word. 
Read more at the Washington Post. 
In other news: African-American Buying Power Approaches $1.1 Trillion.

Like The Root on Facebook. Follow us on Twitter.