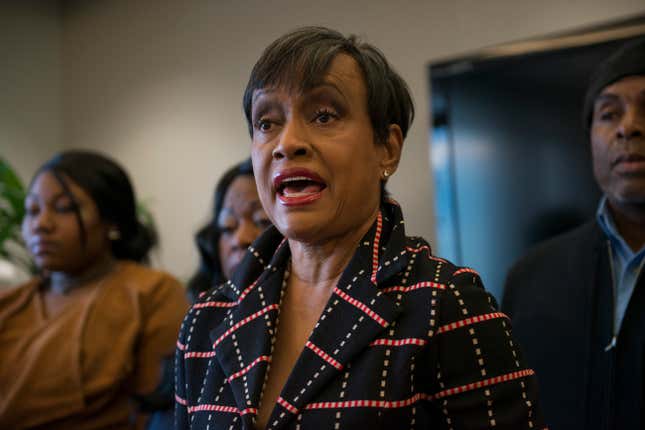 Updated: 8/26/2023 at 8:00 am E.T.
Trigger Warning: depictions of sexual violence

Kristopher Coody, the disgraced former Georgia Sheriff who pleaded guilty to groping TV Judge Glenda Hatchett, resigned on Monday. But for Hatchett, the fact that Georgia Governor Brian Kemp didn't remove him from office for assaulting her doesn't sit right.
Small Town Horror Story: The Mississippi Burning of Three Anti-Segregationists
"I'm going to go there," said Hatchett on local WMAZ. "The governor, after men and women … demanded the governor take action, he never suspended him."
The Georgia Governor has the authority to call a panel to investigate misconduct. From there, they can suspend the sheriff or in some cases ask the local district attorney to have them removed.
Kemp's office told WMAZ that in the case of a misdemeanor crime like Coody's, the panel would only recommend a suspension.
"The purpose of the committee is not to determine the truth of an allegation, but rather to determine what impact such allegation has on a sheriff's ability to perform the functions of his or her office," Kemp press secretary Garrison Douglas wrote to the local outlet.
For those who aren't caught up, on Monday, the Former Bleckley County Sheriff pleaded guilty to misdemeanor sexual battery and resigned from his position. He was sentenced to a year on probation. According to CNN News, he was also ordered to pay a $500 fine and complete a drug and alcohol evaluation.
Hatchett, an Atlanta-based attorney representing the family of Philando Castile is best known for her shows Judge Hatchett and the Verdict with Judge Hatchett says she met Coody while attending a meeting of the Georgia Sheriff's Association. The two were at a hotel bar where the convention was being hosted.
Hatchett told the AP that she told Coody that she didn't know where his home county was, and he then pointed at her chest, saying: "In the heart of Georgia." He then repeated the phrase while groping her breast. According to CNN, he didn't stop until someone else removed his hand and pushed him off of her.
Hatchett told the Associated Press that like many victims of sexual assault and battery she froze in shock during the incident. "It happened on a Tuesday, and by Thursday morning I could not get out of bed," Hatchett told the AP. "So I started counseling literally that evening."
She reported the incident to Cobb county where the case was pending until this week's hearing. After the hearing, Hatchett spoke to the Associated Press about the sentencing.
"He so violated me, and at that moment I felt so powerless," Hatchett told The Associated Press in a phone interview Monday after the hearing. "I see myself as a strong woman. I have never been a victim, and I felt it was important for there to be accountability."