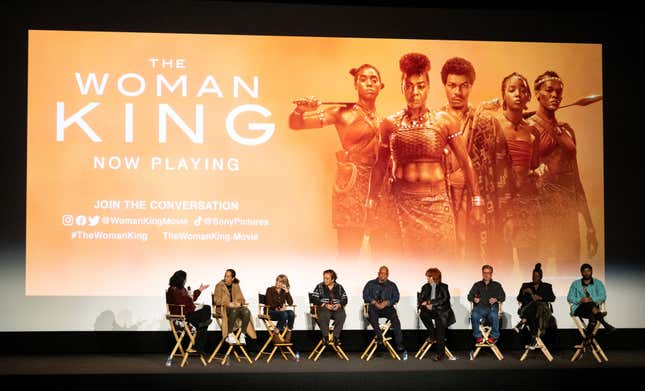 The day after the 2023 BAFTA awards were handed out, Vulture's article headline recapping the ceremony summed up the collective mood this awards season: "All the 2023 BAFTA winners were white."

Omari Hardwick On The Mother & Jennifer Lopez, Poetry, & More
A similar outcome is expected when the Academy Awards are handed out on March 12. "The other day at the Oscar nominee lunch, I was talking to a Black publicist and she was like, 'It's so white.' And I was like, 'You know what? It really is this year,'' says Gil Robertson, the co-founder and president of the African American Film Critics Association (AAFCA). Of the performance categories, only two Black people received recognition: Angela Bassett (best supporting actress) and Brian Tyree Henry (best supporting actor). Rounding out the other nominations are Rihanna, Tems and Ryan Coogler (best original song); Ruth E. Carter (best costume design); and Camille Friend (best makeup and hairstyling; she shares the nod with Joel Harlow).

Although the Oscars don't reflect it, there's actually been a groundswell of diversity happening elsewhere in Hollywood—this, despite overlooking the cinematic achievements of Gina Prince Bythewood's film The Woman King and Chinonye Chukwu's Till. "I would be lying if I said that things weren't better. I mean, obviously all you have to do is say Channing Dungey [chairperson, Warner Bros. Television] or Ava DuVernay [director, ARRAY Productions] to know that things have become unimaginably better than what they were," says Robertson, who honored a number of actors, movies and filmmakers making an impact at the 14th annual AAFCA Awards on March 1.

A few months back, at the Sundance Film Festival, MACRO president James Lopez witnessed Sanaa Lathan's shock and awe at the number of Black creatives securing deals and promoting their projects. "Sanaa Lathan is in our 'Young. Wild. Free.' cast, and she was very overwhelmed because when she first started coming, she remembered she would go minutes, and a half hour or so, without even seeing a person of color besides herself at the festival," says James Lopez, who along with Charles King, the founder and CEO of MARCRO, is helping to change the face of Hollywood. "It was really an emotional moment for her coming back up this year, where she just saw so many people of the community across different races being involved in that market and premiering films, whether they were actors, directors, writers, producers."

When Charles King was on the precipice of launching his boutique production agency, it was just one month before the Tweet heard around the world: #OscarsSoWhite. Looking back at the inclusion efforts of Hollywood then compared with today's landscape, King sees a definite uptick. "What's gotten easier is that there is the marketplace, the studios, the streamers, the premium cable outlet who give more attention and interest and awareness of not only the new voices and older voices, but also more of an understanding of the data analytics and market opportunity," he says.

However, King and his right hand, Lopez, recognize the challenges that keep fully-integrated DEI initiatives in a chokehold across networks, studios and production companies. Some problems are steeped in systemic racism and unconscious bias, while others stem from a lack of financing and access to projects. There's also the issue no one saw coming – well except for Scott Z. Burns, who wrote the 2011 film Contagion – Covid. "There have been changes over the last couple of years due to the impact of Covid on theatrically-released movies and the slowdown of production across all platforms," says King. "When you have challenges that affect the entire marketplace, they tend to also impact our community to a greater degree." Gilbertson, Lopez and King laid out a few of the headwinds people of color are currently confronting.
Network Restructuring
When streamers released their 2022 earnings, which were later followed by massive layoffs at Disney, Warner Bros. Discovery and Netflix, The Los Angeles Times reported, "Across the media and entertainment industry, companies are shedding staff, winnowing budgets and looking to shore up cash on hand as they steer out of the pandemic and into an uncertain future."

King sees the cost-cutting measures as having a deep impact on Black creatives. "There was a fair amount of positive movement—hiring of Black executives and first look deals that were mad—that reflected more people of color," he says. "But the moment there was a market correction or a downturn, those who were last to be brought in were the first to be let go."
Access to Roles
"I've been a part of the Black Hollywood community for a very long time," recalls Robertson, who spent the early part of his career as an entertainment journalist. "I would encounter people who would have projects that were coming out, and they would go, 'Gil, you know what? The studio publicity teams aren't getting me any interviews. They're not giving me any exposure.' What I grew to understand is this: If I could get that 300-item piece in ESSENCE, that could be the difference. That could be the difference when Nina Shaw [lawyer] or Andrea Nelson Meigs [agent] or whoever was negotiating their client's salary for their next project, that might have been the difference between $10,000, $20,000, $30,000."
Robertson went on to say, "If they could go in and say 'Hey, by the way, my client's being profiled in Essence, it would help their celebrity wattage. "For me, it was really about helping people be seen, both from the journalist standpoint, and from the talent standpoint in a way that would hopefully position them for better opportunities."
Financing
Another blockade in the way of expanding Hollywood's diversity is a tale as old as time. "Money, the ability to raise capital," says Robertson, referring to the financial roadblocks many Black filmmakers are up against. But King's MACRO has made movie financing paramount to their mission. "I definitely know we moved the ecosystem because when we first launched in 2015, we were probably the first Black-owned financing entity not to have a complete focus on the multicultural marketplace," King says. "That is not only in terms of producing, but also financing and building out an infrastructure as an independent studio."
"We're always investing in new voices," he adds. "Of the 20 movies we've been involved in, co-financed and co-produced, over half of them have been with first-time filmmakers. And with that, we're not only creating and providing opportunity for new voices, but also using our access to capital, all of our years of experience in the industry as executives and producers to help get these projects the appropriate distribution partners that will get their films and content out into the marketplace."
Back at Sundance, MACRO made the filmmaking runway shorter for one producer by partnering with Tommy Oliver's Confluential Films. "Tommy's a longtime friend of mine, and it was the first time either one of us had worked on a film that was 100% fully-financed by Black folks," says Lopez. "We're making real great inroads. On certain films we control our own destiny in terms of green-lighting a project, which is liberating. That's what recently happened with us on Young. Wild. Free., Tommy's film."

Lopez continues: "We look to find alignment and partnership with folks who are like-minded, whether it be of our community or allies of our community, to co-finance films that support POC filmmakers and storytellers and people in front of the camera as well. So that's what MACRO is built on, is giving voice to our community, and amplifying those and making sure that it gets out to the world."

Booked and Busy
There are some good problems Hollywood studios and networks are having right now: Black creatives are booked and busy. "When you want to have as diverse crew a crew as possible on your movies, sometimes you can't achieve it because all of our folks—hair, camera department, or grips, or line producers—are working," says Lopez, who's currently in production on two films: I Am Not Your Perfect Mexican Daughter (dir. America Ferrera) and Hellfighter (dir. Elegance Bottom). "It's finally hit the industry how important it is to have an inclusive crew for a production, especially if you have a Black director or Latinx director or a person of color. As little as four years ago, it was very easy to crew up with folks who are high-demand department heads, but now they're all busy. You have to wait in line."