(The Root) — With his appearance on Saturday Night Live last weekend, Justin Timberlake joined an elite club. Only a handful of others have hosted the legendary sketch-comedy program five times, among them such Hollywood icons such as Tom Hanks and Steve Martin. Of course, unlike most of them, Timberlake served as that evening's musical guest as well, performing his new single "Suit and Tie" with special guest Jay-Z. Unfortunately for Timberlake, his musical comeback has not been as well received in some corners as his comedic skills.
Beyoncé's Feminist Anthem "Run the World (Girls)" A Decade Later
While mainstream critics have been generally kind about his new album, The 20/20 Experience, black audiences have been somewhat cooler. A look in the comments sections of various entertainment and gossip websites with predominantly black audiences highlights the hurdle Timberlake faces in his quest to reclaim his mantle as one of the modern-day faces of "blue-eyed soul."
Some had issues with the music itself, such as a commenter who said, "This song is god awful!!!!" But others had issues with the musician's relationship with the black community, with one writing, "Justin you are not getting my money you wanna be, seems you only want to have anything to do with the black community when you want my money. Now he is trying to copy Robin thickes style … hope other conscious black people stop supporting your 'music.' "
There were plenty, however, who had a much more specific reason for not supporting Timberlake's musical comeback: Janet Jackson.
G/O Media may get a commission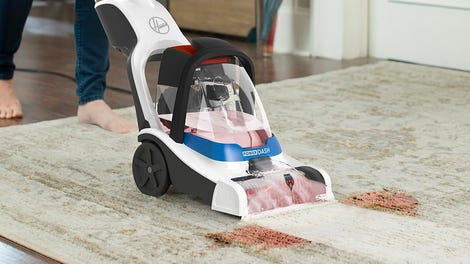 26% Off
Hoover PowerDash Pet Compact Carpet Cleaner
For those who have forgotten, at the 2004 Super Bowl Jackson and Timberlake were performing a duet of his then-hit song "Rock Your Body" when he dramatically pulled at her costume, exposing her right breast — appropriately (or inappropriately, as the case may be) while singing the line, "Gonna have you naked by the end of this song."
Nearly a decade after what would be known as "Nipplegate," Timberlake is an A-list recording artist (he dropped a hit album, FutureSex/LoveSounds, in 2006) and movie star, while Jackson — who was that night's Super Bowl headliner — has been relegated to occasionally appearing in tabloid headlines for her marriage and messy family life. In the eyes of some black Americans, including yours truly, this isn't exactly fair.
A sampling of some of the comments about Timberlake nearly a decade after the Super Bowl episode reads as follows:
"Even though i haven't like Justin Fakerlake since he dissed Ms Jackson during the wardrobe malfunction era. He seems to try way too hard to have soul, whereas with Robin "fine" Thicke's soul is effortless. His performance was overall good, but far from Robin Thicke. He will not get an album sale from me."
"This opportunist MF lost me after the he let Janet take the fall ALL by herself for the Superbowl wardrobe malfunction. Screw punk ass Justin Timberlake!!"
"True that, I have not liked his punk ass since the JJ incident and I heard the song today and he has totally JACKED THICKE'S STYLE W/ HIS NONE ACTING SELF."
While Jackson accepted the brunt of the blame, saying in a televised apology that the stunt went further onstage than it had in previous rehearsals, at the end of the day it was still a stunt that took two to tango, so to speak. She didn't expose her own breast. She had help. Yet somehow the one who did the exposing — who happens to be white and male — emerged unscathed by the incident, while the black woman endured a seemingly permanent fall from grace.
This fact remains a hard pill for many of us to swallow years later, because while it certainly doesn't rise to the level of police brutality or other forms of racism that have truly painful consequences, it is yet another reminder that no matter how rich or famous you become, if you're black, and particularly if you're a woman, you may be held to different standards than someone who is not.
But the other angle of this story that many of us still find offensive is that it is hard to escape the notion that Timberlake essentially used Jackson, and in essence the black community. He was a white kid trying to escape the shadow and stigma of being in a corny boy band, and the most famous black female entertainer in the world gave him her cool pass. By sharing the stage with him that night and hanging out with him before then, Jackson essentially signaled to her fans, and the black community, "He's all right."
And then when she ended up in trouble, he did what any real man would.
He disappeared.
Now he's trying to make a musical comeback. Yet again, he is relying on another black entertainer to loan him his cool pass.
Jay-Z, who's joining Timberlake for a national tour this summer, just better hope he doesn't end up in any trouble, because Timberlake has made it clear he won't stick around. It is precisely this perception that may just prove problematic for Timberlake's new album, because there are plenty of black Americans who don't plan to stick around for that either, because of his behavior after so-called "Nipplegate 2004."
If Timberlake gets really desperate, he can always call Janet for a duet and hope that she's forgiven him more quickly than her fans have.
Keli Goff is The Root's political correspondent.
Like The Root on Facebook. Follow us on Twitter.
Keli Goff is The Root's special correspondent. Follow her on Twitter.