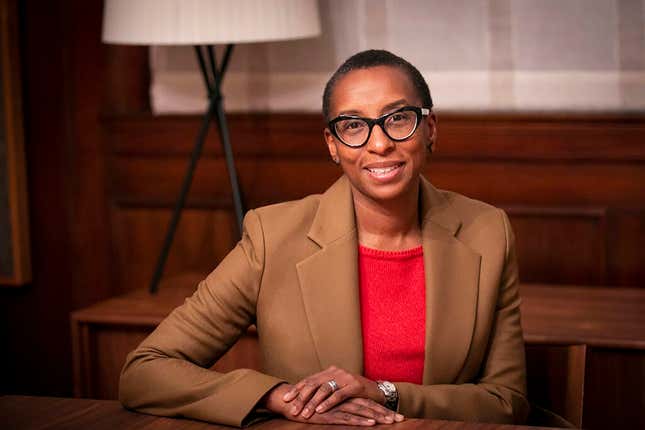 What will it really mean for Harvard—the country's oldest and most prestigious university—to have its first Black president?
Barack Obama Hosts Working: What We Do All Day, Our TV Pick This Week
The institution, whose history dates back to 1636, last week tapped Claudine Gay, who is currently dean of Harvard's faculty of arts and scientists, to take over from current president Larry Bacow in 2023. She'll be Harvard's 30th president and only the second woman. Every other Harvard president were white men.

But the appointment of Gay, 52, has the potential to be historic for more reasons than just her race and gender. Her appointment comes as Harvard is in the middle of an unprecedented reckoning of its own contribution to slavery and the subsequent unfolding of systemic marginalization of Black people in the United States. In April, Harvard released a 134-page report on the school's ties to slavery and announced a $100 million fund to address its long-term impact. In June, Harvard's student newspaper, the Crimson, reported that the school was in possession of the remains of 19 formerly enslaved people and hundreds of deceased indigenous people.
It's too soon to know how Gay might handle any of those issues or how she'll balance them with her primary responsibilities of guiding Harvard academically and continuing to grow it's more than $50 billion endowment, the largest in the world.

But she did give some clues, if vague ones, in the video announcing her hire. In it, she spoke about Harvard's "duty to lean in and engage and to be of service to the world," before turning to her own identity as a Black woman.

"As a woman of color, as a daughter of immigrants, if my presence in this role affirms someone's sense of belonging at Harvard, that is a great honor."
Harvard has graduated eight presidents of the United States, including Barack Obama, George H.W. Bush and John F. Kennedy. The school has the largest reported endowment in the world, at $51.9 billion, giving it the ability to support research and other activities on a global scale. Harvard's president doesn't unilaterally allocate or manage those funds but the institution's leader does have some sway.