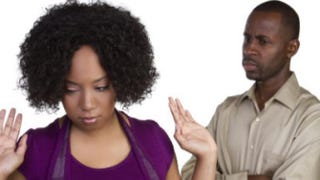 Heartbreak refers to the end of a romance, the grief or disappointment over a lost love. There is no how-to manual for heartbreak, no guide to prepare one for the searing emotions of pain and loss.
In The Root's continuing spoken-word series, Speaking Truth, we introduce Kristiana Rae Colón, a poet, playwright, actor, MC and educator. Her poem, "Instructions for the Next Heartbreak," is evidence of one who was overtaken by the grief of a not-forgotten relationship.
Colón performs the poem, from her collection promised instruments, overlooking the River Thames on London's South Bank.
Watch "Instructions for the Next Heartbreak":
Kristiana's rhymes can be heard at aprilfoolschicago.bandcamp.com and everything else at www.kristianacolon.com. Follow her on Twitter.
Like The Root on Facebook. Follow us on Twitter.