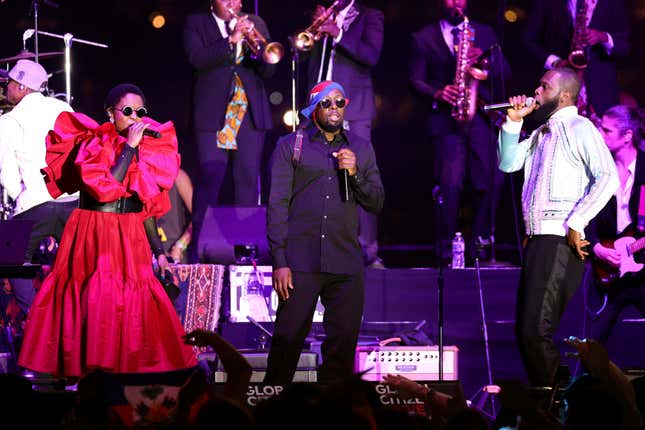 Ms. Lauryn Hill's recent announcement that she's celebrating the 25th anniversary of The Miseducation of Lauryn Hill with a tour gave fans of the classic album a reason to rejoice. The cherry on the hip-hop sundae was the news that The Fugees would be co-headlining U.S. and Canadian dates. In case you're not familiar with the rap legends, The Fugees consists of Hill, Wyclef Jean and Pras. The news of this historic reunion tour was a surprises to at least one member of the group.

Wu-Tang: An American Saga Is Our TV Pick This Week
Apparently, no one bothered to give Pras a call or text, because he heard the news when we all did. "I ain't even know this tour was happening until last week to be honest with you," he told TMZ. "I heard about it through the media… I'm going, obviously, I just heard about it last week."
According to CBS News, in April, Pras was found guilty of 10 criminal counts in a federal conspiracy trial that prosecutors called a "clandestine foreign influence campaign scheme" where he helped Malaysian businessman Jho Low get access to former presidents Barack Obama and Donald Trump. He is currently facing up to 25 years in prison.
Billboard is reporting that there was no mention of Pras in the official tour announcement, which could mean he's not invited. Look, I'm not going to pretend that having a criminal record disqualifies you from hip-hop, because let's be real. However, if Hill and her team are planning a major global tour and can't be certain that he'll be available to travel without serious restrictions, they have to make some hard decisions.
Of course, we'd like to think that, regardless of his legal problems, if they were about to announce a huge Fugees reunion tour and Pras really wasn't invited, they would at least call him before the press release went out so he could be prepared. But then again, The Fugees have always been the most drama filled group in hip-hop, so why would their reunion be any different?
In the meantime, I'm just gonna go listen to The Miseducation of Lauryn Hill again, because "Everything Is Everything."