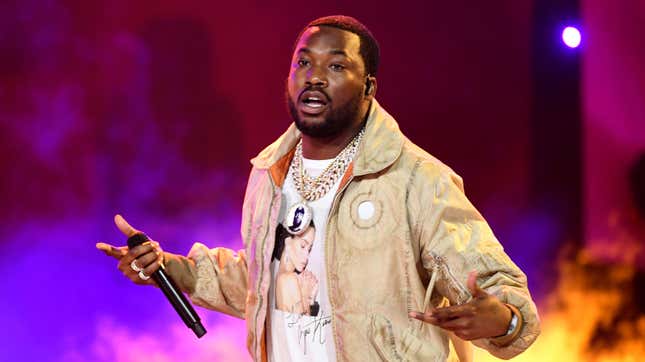 Meek Mill just got that "Bag of Money," or as they say: When life imitates art.
According to his recent interview with Business Insider, the 32-year-old rapper, born Robert Williams, is officially the co-owner of Lids.

Fighting "Lie-abetes": How To Spot And Combat Disinformation and Conspiracies In Politics | The 411: Part 2
"You know, this is my boss year," he told the publication. "A lot of what I'm doing, I'm trying to get ownership in a lot of things to where I can still live comfortable the way I was living in my prime years as a rapper. I'm just trying to build a foundation of some good businesses that'll keep me living good. And, Lids, I've been shopping at Lids my whole life, wearing hats, fitteds, of course, fitted hats and caps, all types of hats. In our culture, it's been a big thing. So, it was something I ain't have to think twice about and always believed in, that it'll work."

As Business Insider reports:

Mill joins the Lids ownership team by way of his close connection with Michael Rubin, the co-owner of the NBA's Philadelphia 76ers, the executive chairman of the sports retailer Fanatics, and a cofounder of Mill's Reform Alliance Foundation for criminal-justice reform. (Lids' ownership includes Rubin's Fanatics and the investment firm Ames Watson, which acquired Lids in February.)
The popular hat company also posted the announcement on its official Instagram page.

Meek's source of inspiration? None other than the "business, man."

"He's just a different type of guy," he said. "He's about his business. He's never late, he's on point. He's checking on his business every chance he gets. Basically, I've seen Jay-Z, and then I've watched other artists who came up around his time. He actually built something. He built businesses, and he built things that made him become the man who he is, that we could call a billionaire guy. He built that, and I watched that, and I studied that. That's why I'm working the way I'm working now to build a foundation for myself too."

Jay and Meek have collaborated before, forming the Reform Alliance together to tackle longstanding issues within the criminal justice system.
As for his new fashionable venture, Meek has some plans in the works with Lids, but what sticks out is that he wants to make sure the collaboration means the company is about to get very, very, very black. After all, what's blacker than a well-placed fitted cap?

"I will have to sit down at some point and go through it," he told Business Insider. "But, you know, in the hip-hop game, I have a lot of influence, and I can see things kind of clearer. I would definitely love to involve our whole culture in Lids more. Because, first thing we do in merchandise in hip-hop, we sell hats, we sell all types of things. And, you know, I have the leverage to actually bring the two together even more. I know they've probably collaborated before, but you know, bring the culture, and get it involved more."

Meek will drop a limited-edition line of Lids hats in August.