When LaDonna Redmond found out, nearly 10 years ago, that her then 1-year-old son had several serious food allergies, she set out to find a healthy diet that would not trigger his allergies. At the time, she knew nothing, and cared nothing, about going green.
"It wasn't that I ignored the environment," she says. "I just didn't have any interest in saving the environment." She started researching food sources and discovered that it was almost impossible to find unprocessed food in the grocery store, unless it was organic. Her neighborhood on Chicago's West Side had no stores with organic foods, and the organic groceries she found in more upscale neighborhoods were too pricey.
She decided that the best way to protect her son's health and to avoid a higher grocery bill, was to begin growing her own food. "Growing my own food gave me a lot more control," she says. "I felt more empowered as a mother, being able to control my son's diet."
After relishing in the "proud moment" that came from growing her first set of vegetables, Redmond decided she wanted to give her neighbors the opportunity to take control of what they eat. She started the Institute for Community Resource Development (ICRD), which, since 2001, has run a farmer's market and grows some of the food sold there. Every day on ten city farm plots on the West Side of Chicago, a team of local farmers and community members dispel the myths about what is possible in urban farming; they harvest tomatoes, okra and even corn.
"We all want to eat the healthiest food possible. You can grow some of your food yourself and really take ownership of community," Redmond says.
G/O Media may get a commission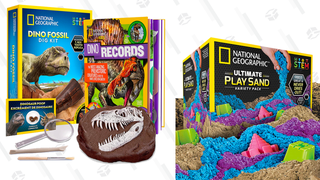 Up to 33% off
National Geographic Science and Activity Kits
Redmond's organization is currently working on establishing its first community-owned grocery store.
Take a look at the Green Collar Heroes photo gallery.
Green Collar Hero: Zakiya Harris
Green Collar Hero: Brenda Palms-Barber
Green Collar Hero: Daniell "Danni" Washington
Green Collar Hero: Tony Anderson
Green Collar Hero: Juan Reynosa
Green Collar Hero: Baye Adofo-Wilson
Green Collar Hero: Kandi Mossett