I'll be the first to admit that I'm no Tyler Perry fan. When I first heard that Mr. Madea would be adapting For Colored Girls Who Considered Suicide When The Rainbow Is Enuf, I stomped around the office, gnashing my teeth and muttered, "Tyler Perry must be stopped!" News that he wanted to cast Beyoncé didn't help with the agitation.
I took comfort in knowing that at least Madea wouldn't be making an appearance in Ntozake Shange's seminal, Tony Award-winning choreopoem, which debuted on Broadway in 1976. At least.
Now I can take comfort in knowing that Beyoncé won't be making an appearance, either.
This week, Perry announced—drumroll—his official, Beyoncé-free cast: Whoopi Goldberg, Janet Jackson, Jurnee Smollett, Phylicia Rashad, Kimberly Elise, Mariah Carey, Kerry Washington and Macy Gray.
And I'm not (too) mad at him. They're all talented women. Macy Gray's demonstrated her thespian chops in Domino and Idlewild. (And was her whole spacey, drugged out, 1990s stage persona an act, too?) Mariah Carey surprised us all, post Glitter, by proving in Precious that she could act, too.
G/O Media may get a commission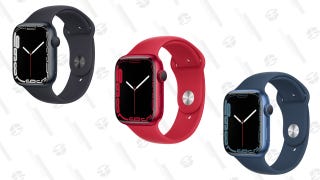 Up To $45 Off
Apple Watch Series 7
But still. They deserve a better director. A much better director. (What happened to Nzingha Stewart, who wrote the adaptation and was originally set to direct For Colored Girls?) Just as every good writer needs an eagle-eyed editor, just as the Lakers need Phil Jackson, actors need a savvy director to lead them around the pitfalls of over-emoting and underwhelming, to draw out the best possible performance. Say what you will about Precious and Lee Daniels, but he's a man who knows how to coax award-winning acting out of the most unlikely of performers.
Now, I can appreciate his business hustle—and clearly, the gazillions of fans that flock to the multiplex to see Why Did I Get Married When I Can Do Bad All By Myself While Madea Goes to Jail can't all be wrong. (Or can they?) But there's a difference between commerce and art.  As Thembi Ford noted on The Root last fall, For Colored Girls is all stripped-down minimalism and carefully crafted angst. Perry doesn't do subtle. Perry does gun-wielding men in drag and scenery-chewing melodrama.
I hope that I'm wrong. Shange's work made a big, big impression on me when I was a playwriting major in college. I was too young to see the original production on Broadway, but her work seeped into my subconscious, nonetheless. How could it not? She rendered the lives of black girls and women poetic, writing with humor, passion and pain. So while I wish Tyler Perry well, I'll be holding my hopes out that the Broadway revival of For Colored Girls, produced by Whoopi Goldberg and starring India.Arie, will find another financial backer and finally, finally, finally make it to the stage.
Teresa Wiltz is The Root's senior editor. Follow her on Twitter.
Become a fan of The Root on Facebook. Follow us on Twitter.