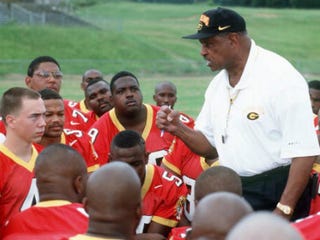 (The Root) — We all know the media can be, uh, funny sometimes when it comes to why and how someone is highlighted and someone else isn't. A perfect example just happened involving Penn State's late football coach Joe Paterno and Grambling's late football coach Eddie Robinson.
On Oct. 29, 2011, headlines blared the news after Penn State's 10-7 victory against Illinois. "Joe Paterno makes history with 409th win," read a Sports Illustrated story. "Sloppy Penn State hands Paterno a record victory," said a New York Times story. Afterward, during a postgame ceremony that was aired at Beaver Stadium to more than 100,000 fans, officials presented Paterno with a plaque.
Paterno had passed Robinson — who retired in 1997 and died in 2007 — for most wins by a Division I coach.
But a not-so-funny thing happened Monday, when the NCAA stripped Penn State of 112 victories (111 credited to Paterno) for the school's role in the Jerry Sandusky child sex-abuse scandal. Most headlines didn't refer to Robinson regaining his record; they pointed to former Florida State coach Bobby Bowden surpassing Paterno for most wins in Division I-A (also known as the Football Bowl Series).
"Paterno stripped of wins makes Bowden No. 1," read a Bloomberg Businessweek report. "Paterno's fall elevates Bowden to all-time wins record," said a story in Florida's Tallahassee Democrat. "Bowden takes over as winningest coach," read an ESPN story.
Bowden has 377 wins at the FBS level, considered "major college football." Robinson's 408 victories during 55 years at Grambling were compiled at the Division I-AA level, the Football Championship Series.
That's a notch below the FBS, but it's still Division I.
Most stories broke down the nuances once — if? — you read past the headlines and first few paragraphs. But a few outlets took a different approach to Paterno's fall, reminding everyone that No. 2 was No. 1 again. "Robinson regains win record," read a story in the Advocate of Baton Rouge, La. "Robinson moves back atop wins list," reported the New Star of Monroe, La. "Robinson moves past Paterno as winningest coach," said a story in the Philadelphia Inquirer.
"Today is mixed emotions for me," said Eddie Robinson Jr., who played and coached for his father at Grambling. "I've talked to a lot of people who've asked me if I was happy. I can't truly say that I am."
The city of Grambling took its own steps to restore Robinson's place last week, sending a three-page letter to the NCAA and asking that some of Paterno's wins be vacated. "We're hoping the end result of [the Sandusky scandal] is coach Robinson will get his record back so everyone will think a great man holds this record," read the letter, written by the city attorney in concert with the mayor.
We don't know if that had any bearing on the NCAA's decision. Regardless, Bowden isn't thrilled with the turn of events. He said that the unprecedented punishment that vaulted him to the top of the FBS wins list "cannot replace those boys who were molested … I didn't want it to happen like this," said Bowden, 82. "Wish I could have earned it, but that's the way it is."
It's unlikely that anyone will ever surpass Robinson's Division I record of 408 victories. The all-time college wins record appears even safer. It's held by 85-year-old John Gagliardi, coach of Division III's St. John's of Minnesota, who has 484 victories and counting.
Due to the malfeasance at Penn State, Bowden now can claim a record. That's fair enough.
Just remember that in the same fell swoop, Robinson reclaimed his former record.
Deron Snyder's Loose Ball column appears regularly on The Root. Follow him on Twitter and reach him at BlackDoor Ventures, Inc.