Is nothing sacred anymore?
Any thrift store lover typically cut their teeth in a Goodwill, sifting through racks of donated goods, looking for an overlooked gem to buy or even resell. And as experienced thrifters know, depending on the Goodwill, the goods can be abundant—this writer has been known to score many a designer or vintage find in Goodwills in lesser-known markets.
But as Business of Fashion reports, the secondhand stalwart has gotten hip to the digital retail game—or should we say the digital resale game. After decades of watching folks clean up on eBay or Etsy with their donated finds, Goodwill has decided to partner with mobile marketplace OfferUP to offload some of their most covetable items to the highest bidder.
We can't say we blame them; as BoF reports, the resale industry is currently a $24 billion market. Goodwill's 3,300 stores alone generated $4.29 billion in sales in 2017.
But given the success of sites like the RealReal (which recently filed for IPO), Poshmark and more, Goodwill apparently isn't leveraging its 117-year-old assets as well as it could, and a long-overdue image overhaul may be the result.
"We sell all of the same brands as those platforms do, like Louis Vuitton, Hermes, Givenchy, and Gucci," said Joseph Jarroush, Goodwill's vice president of retail operations in New York and New Jersey. "We compete with the RealReal every day and have been looking at different avenues to make consumers aware. The partnership with OfferUP will give our listings a national audience."
G/O Media may get a commission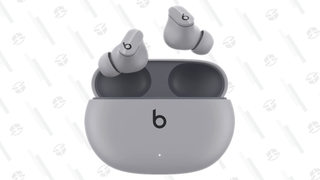 Though Goodwill has long had an identity on eBay, by utilizing OfferUP's ability to amplify local sales, the app also provides a draw to customers in a given area, a benefit apparently tapped into by Goodwill employees, who inspired this partnership by using the app to promote and move product in their respective stores. According to OfferUp's vice president of community Natalie Angelillo, most Goodwill items on the app sold within 72 hours.
Now, 100 of Goodwill's locations will be working with OfferUp, including in major hubs like New York, San Francisco and Detroit, where associates will focus on marketing luxury or prime vintage goods that come through the stores to OfferUp's 44 million, primarily millennial, monthly active users. Additionally, Goodwill is implementing inventory control through Upright Labs and using authentication company Entrupy to verify its luxury items. It's all an effort to elevate one of America's most established secondhand resellers to a leader in the resale game ... but gee, will we hate having to compete with the rest of the internet for the pennies-on-the-dollar finds we used to score in-store.
"The RealReal and Poshmark have come out of the gates hot, but we've been around for 100 years," said Jarroush. "Plus, as other companies grab a piece of the pie, the pie only gets bigger for us."
Correction: 6/12/19 at 5:45 p.m., ET: An earlier version of this article incorrectly stated that "Goodwill's 3,300 stores alone generated $4.29 billion in sales in 2017, which primarily goes toward maintaining its vast network of stores and workforce (whose jobs are often part of the "goodwill" the nonprofit provides)." The Glow Up has since received the following statement from Goodwill, and the article has been amended to reflect their clarification. Additionally, Goodwill Industries' annual report is attached:
Goodwill is comprised of 159 Goodwill organizations throughout the U.S. and Canada. Each has its own president and CEO and is governed by a local board of directors. Each also operates the stores and donation centers in their territories and the revenue is funneled right back into communities to provide employment placement, job training, credentials and certifications, and digital skills training for anyone facing challenges to finding employment including, people with disabilities, older workers, youth, veterans and military families, and people with criminal backgrounds. Additionally, we offer support services such as financial education, youth mentoring, child care, and health care. The revenue is not used to maintain the stores.