What a time to be alive. Jordan Peele, who's now a little less than two weeks away from hopefully clutching his first Oscar, was recently asked by W Magazine to direct a fashion shoot.
And Lord, did Peele deliver.
He tapped friend and living queen Janelle Monáe to "star" in a storyline that reimagines classic, Alfred Hitchcock noir centered on a black woman as the protagonist. As IndieWire reports, Peele has made explicit his desire to subvert the horror film genre, and the W shoot blesses us with a version of that as Peele imagines the horror film of his (and, now, our) dreams.
The photo shoot's storyline is fittingly titled, "Noir Town."
From IndieWire:
"I wanted to create a Hitchcock moment that doesn't really exist in a Hitchcock film," Peele explained about the project, which pulls from titles like Vertigo and Psycho but tells the story through a women of color. Peele handpicked Monáe for the lead and also insisted W Magazine hire a female photographer, Collier Schorr.

G/O Media may get a commission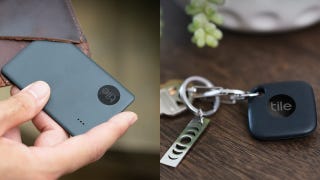 Up to 35% off
Tile Item Trackers
Peele told the publication that he didn't want the "Hitchcock heroine," but the "Hitchcock hero."
"That way, we can reclaim this movie that we never got to see. The fear of gender and race robs us of beautiful pieces of film," Peele continued. "Putting Janelle in that character is all you need to create my new favorite movie."
The stunning photos, which you can catch online at W Magazine, feature Monáe in a short, boyish cut and exquisitely cut menswear—think black, femme Humphrey Bogart.
As the intro to the photo spread details, Monáe plays the role of a private investigator searching for clues to a murder. While standing in a clock tower taking photos of a parade, she finds among the attendees a "sea of potential suspects" that all look like her.
Color us shooketh—and unspeakably parched for this photo shoot to become a real, silver screen thing.