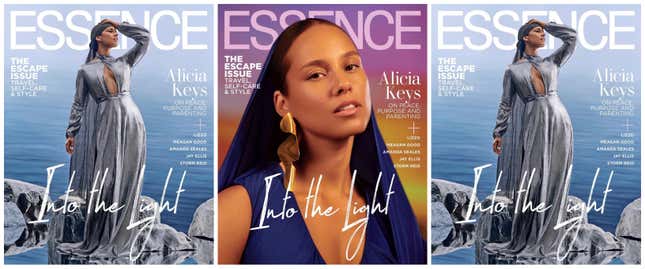 June is Black Music Month, so it's fitting that 15-time Grammy winner Alicia Keys is covering Essence's June issue (with Lizzo starring on the digital version)—though it's actually themed "The Escape Issue." In keeping with the theme, Keys, who has famously already broken free of entertainment industry expectations by taking a cleaner approach to beauty, has plenty to say about escapes, both big and seemingly small.
Tackling A Black Maternal Health Crisis & Embracing Reproductive Justice | The Root Institute
"I didn't understand boundaries. I didn't understand how to claim my own space," Keys says of life before she became a wife and mother. "And now as a mom, I also understand that as much as I love my babies...I also know that I have to have space for myself too. And I've got to tell them, 'I love you so much, and I know you want me to do this with you right now, but what I need to do is take a nap or read a book or have some quiet time because I've done everything you asked me to do and I need a little space now.'"
Memorably Keys' journey into domestic life with husband Swizz Beatz wasn't exactly smooth sailing, as made public at the time by his ex-wife, Mashonda Tifrere. As Essence reports, it took six years of group therapy and mediation, but the trio, who have more recently referred to each other as "life partners," are now defying the odds by becoming role models for co-parenting. Tifrere chronicled their collective evolution in her 2018 book, Blend: The Secret to Co-Parenting and Creating a Balanced Family, for which Keys wrote the foreword.
"You can get to know each other and actually create sisterhood, create understanding," Keys tells the magazine. "We are really proud of it. Our kids are flourishing. They're beautiful. And it's a constant process for us. We talk. We support one another. We build. ...So it's a beautiful thing, and I'm definitely, definitely proud of where we are and where we're going, you know? Our kids are dope."
But when it comes to escaping dysfunctional relationships, scenarios and behaviors, Keys shares advice we can all live by.
"You've got to try things and see what they're going to bring you," she says." [I]f the energy is not right, go away. Just because it's someone you love or just because it's someone you're supposed to be cool with, like, if it's not an inviting energy for you, don't be there."
Who else have we spotted as more June issues hit the stands? Fever-starter Megan Thee Stallion on Fader, When They See Us writer, director and all-around filmmaking phenom Ava DuVernay (who also stars on one of Town & Country's summer issue covers, and Mj Rodriguez striking a Pose on Out magazine in honor of the fiftieth anniversary of Stonewall.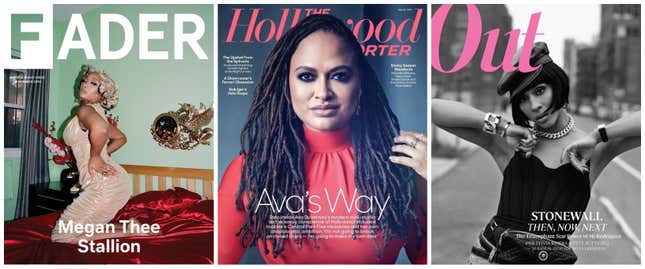 In short, June is a great month to be black, beautiful and free—whatever that means to you. You can catch all of these covers on stands now.