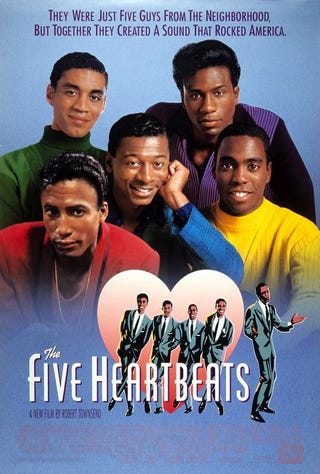 Global Grind is celebrating film classic The Five Heartbeats with an exclusive 20-year reunion special for the Web. The reunion features interviews with Robert Townsend, Leon, and Michael Wright, who tell the story of what was happening behind the scenes during the making of this film. Robert Townsend shares his inspiration for making the film:
Well, it really started in my childhood. I'm a big fan of the Temptations, and when they broke up, I didn't understand it as a kid. I was just like, they are the most powerful group, they're incredible. What do you mean they broke up? You know, and David Ruffin and all of that. So, part of that stayed in my head and I always loved singing groups.  And I guess the question that I always had was, they sing about love songs, but do they have love in their real lives?
Leon discusses finding a naked woman in his dressing room during filming, and Michael Wright reflects on spending four weeks to prepare for his iconic performance as Eddie King Jr. Did I mention the photo gallery?
While we look forward to new black cinema, it is fun to rewind to classic black cinema that spoke to multiple generations in an infectious way.
Read more about the Five Heartbeats reunion at Global Grind. Watch video of "A Heart is a House for Love" below:
In other news: 'Pushing the Elephant': A Documentary on Congolese Refugees Airs Tonight.
Like The Root on Facebook. Follow us on Twitter.