Last month Twitter found itself the latest major tech company to face criticism for a lack of diversity—a jarring lack of diversity, to be more precise. It was revealed that the company's entire board of directors consists of white males.
The revelation generated plenty of hand-wringing about a well-covered topic, namely the underrepresentation of women and ethnic minorities, particularly African Americans, in the tech industry. What was especially disturbing about the coverage of Twitter's lack of diversity is its CEO's seeming indifference to the topic.
After Stanford University fellow Vivek Wadhwa said, "This is the elite arrogance of the Silicon Valley mafia, the Twitter mafia. It's the same male chauvinistic thinking. The fact that they went to the IPO without a single woman on the board—how dare they?" Twitter's Dick Costolo replied, "Vivek Wadhwa is the Carrot Top of academic sources." (Carrot Top is a professional comedian occasionally derided by other comedians for his material.)
But while others continue to focus on the problem of a lack of diversity in the tech space, a new nonprofit venture aims to find a solution. Christina Lewis Halpern, a journalist who has written for publications like the Wall Street Journal, has launched All Star Code, which aims to prepare African-American boys for careers in the tech sector.
Programs have launched in recent years to increase the number of young women interested in pursuing careers in tech, among them Girls Who Code and Girls in Tech, but young boys of color remain largely overlooked in the tech-recruiting landscape. Halpern launched All Star Code to address this need. "[We are] dedicated to closing the systematic opportunity gap between young men of color and the tech sector," she said in an interview with The Root. "In order to do that, we attract, prepare and ultimately place talented young men of color in the tech pipeline."
G/O Media may get a commission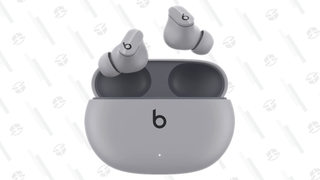 Although the primary training boot camp will take place next summer, Halpern has already begun conducting miniature workshops in which boys ages 14 to 17 spend five hours with tech experts from companies like Facebook, Spotify, AOL and OnSwipe. The boys learn about career options and hone their skills. A second miniworkshop will take place today, Saturday, Nov. 23. Students engage in exercises such as coming up with ideas for new apps, logos and marketing plans. In the expanded summer workshops, they will actually be taught coding, a skill requiring more time than an afternoon workshop allows.
Halpern founded All Star Code because "no one else would do it," she said with a laugh. Inspired by the life of her father, legendary African-American businessman Reginald Lewis, she felt there needed to be a program that would nurture the talent of the next Reginald Lewis.
"One of the core principles of All Star Code is that one of the nation's greatest sources of untapped talent are young men of color," she said. "What I know is that the talent and drive and work ethic is there, and what they need is to be connected. If you aren't aware of the pathway of success in the tech sector, you aren't able to dream it. You aren't able to plan, and All Star Code is about creating a pathway to diversify the pipeline."
When asked what she thinks of those in the tech industry who bristle at criticism that the industry has a diversity problem and say that it is a meritocracy where talent trumps color, she replied, "I think that's nuts." She went on: "It drives me nuts. I know that there is an abundance of talent in this industry, in this country, that's not being accessed, and the reason there are so few people of color in the tech sector [is that] there are unspoken pathways that have evolved in the sector and minorities aren't connected to it."
Which is why she founded All Star Code—to give more young people of color access to those pathways, but also to "save kids from law school," she said with a laugh. Particularly in the black community, she explained, those who are routed toward college still often feel familial and community pressure to pursue fields such as medicine, banking and law for stability's sake. She is hoping that by catching kids and their families early on, programs like All Star Code can plant the seed that there are plenty of other ways—such as in technology—to be successful.
When asked how she will know the program has succeeded, she replied, "One way to frame us is [that we're] about creating the next Steve Jobs, but we believe all of our All Stars are talented, hardworking, driven, and with the right mentorship early on they can find a successful place in this dynamic field. Our goal is for them to achieve full-time employment at technology companies early in their careers."
But she also noted that All Star Code's mission extends far beyond getting boys to participate in the program: "African Americans comprise less than 1 percent of startup founding teams, which is just a critical sector for job growth and wealth creation. We see that in the wealth gap between black Americans and other households."
Halpern concluded, "Success, for me, would mean seeing those numbers move on the wealth gap. We are focused on diversifying the tech sector. This is an issue of economic and social justice."
To learn more about All Star Code and how you can help a young person you know apply for the program, visit allstarcode.org.
Keli Goff is The Root's special correspondent. Follow her on Twitter.
Keli Goff is The Root's special correspondent. Follow her on Twitter.