Bit by bit, I'm becoming a fan of the Rutgers University Scarlet Knights women's basketball team and Don Imus has nothing to do with it.
Blame the NCAA. Every year when they pick their field of 64 for the women's basketball championship, the selection committee figures out a way to slight Rutgers. The Scarlet Knights have been a top ten, if not a top five team for several years, but come tournament time the selection committee treats them like a mediocre team from a small conference that got hot at the right time.
In 2005, and 2006, the Scarlet Knights found themselves in a "group of death" with three other top teams. In 2007, when Rutgers started slowly only to finish on a 12-2 tear that included a win over perennial power UConn in Connecticut, the selection committee sent them on a road that included playing powerhouse Michigan State on their home court in East Lansing and Duke, the #1 team in the country at the time, in Greensboro North Carolina, not far from their campus.
Rutgers won both of those games on a dramatic march to the national championship game that was overshadowed when a certain shock jock decided to go too far in his attempts to elicit outrage. This year has been no different for the Rutgers women. Twice they've lost games on fouls called with a fraction of a second to go in the game, and in neither case did the contact impede a possible game winning shot. Usually fouls are called in the final seconds only if the contact interferes with the potential game winner; or if felony charges may be brought against the assailant. Otherwise, the refs are supposed to let them play.
Monday night, the selection committee offered their latest cold shoulder to the Scarlet Knights. If the seedings hold, Rutgers will have to play a road game in the second round in Des Moines against Iowa State (who won't be far from their campus in Ames despite being the far lower seed in the matchup). Then if Rutgers advances to the regional final, they will likely face bitter archrival UConn.
G/O Media may get a commission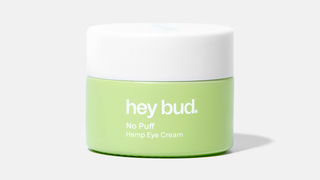 15% off
Hey Bud - No Puff Hemp Eye Cream
Every coach has an "it's-us-against –the-world" speech in their repertoire; I'm surprised that Rutgers coach C. Vivian Stringer isn't giving hers during press conferences. Even UConn coach Geno Auriemma was shocked. He told the Associated Press, "If I was them, I'd be asking what's going on."
What is going on is another chapter in women's collegiate basketball, which is growing in popularity faster than its administrators and officials can manage. One of the first shots in the montage that precedes ESPN's Sportscenter is the tip off of a UConn-University of Tennessee women's game. The tip is from the 2005 NCAA final, which was one of the most watched hoops telecast (college or pro of either gender) in network history.
Unlike the WNBA which promotes itself as a group of role models, the NCAA markets women's basketball for what it is, an exciting, mostly well-played sport.
The tournament begins on Saturday, which puts it initially in the shadow of the men's tourney, but I have no problem with that. As is the case with the men, the women's bracket doesn't have 64 teams of comparable quality. Thus the first weekend will feature more than a few 30 point blowouts. However, by Monday and Tuesday, when the women have the stage mostly to themselves to narrow 32 teams to 16, the competition should be fierce.
Unlike a lot of the growing legion of women's college basketball fans who came to the sport via coaching or enthusiastically watching the sport at the elementary and high school level, I stumbled onto it on TV one night in March about ten years ago. I was fascinated with the below the rim game. Since few players have the athleticism to compensate for a blown play, execution is a must and there's a premium on poise, savvy and precision.
When I began to watch, Chamique Holdsclaw was leading the University of Tennessee Lady Vols to three consecutive titles. Shortly after that, Diana Taurasi matched that streak for UConn. Then, the hegemony broke. Baylor won one championship and Maryland won the next one in dramatic fashion, tying the title game with a last second three pointer and winning it in overtime.
The Lady Vols are presently led by Candace Parker, a player who may be better than either Holdsclaw or Tuarasi (four years ago in the slam dunk competition at the McDonald's High School All Star game festivities, Parker beat the four boys—including future NBA slam dunk champ Josh Smith), however Tennessee while an elite team wasn't a lock last year, when they won the title, nor is it this season. Meanwhile UConn fans have high hopes too; their team is the #1 overall seed in the tournament, and next season top recruit Elena Delle Donne will join the fold.
There are now more than 20 programs that can guarantee tradition and exposure for top women's college basketball players but Tennessee and UConn can go one step further, a network into the lucrative women's hoops circuit abroad. Few WNBA players make more than $100,000 a season, but most former NCAA standouts top those earnings playing during the winter and spring abroad and some make nearly half a million dollars. The Husky and Lady Vol connections are the strongest, but as other schools win titles and build a winning tradition, they too will establish alumni associations with similar clout on the foreign hoops circuit.
That's one more reason for me to root for Rutgers this spring. They stand the best chance of preventing a return to the hegemony of recent years in women's college hoops. There's too much talent in the game right now for two teams to hog all the fun.
Martin Johnson is a regular contributor to The Root.
Martin Johnson writes about music for the Wall Street Journal, basketball for Slate and beer for Eater, and he blogs at both the Joy of Cheese and Rotations. Follow him on Twitter.