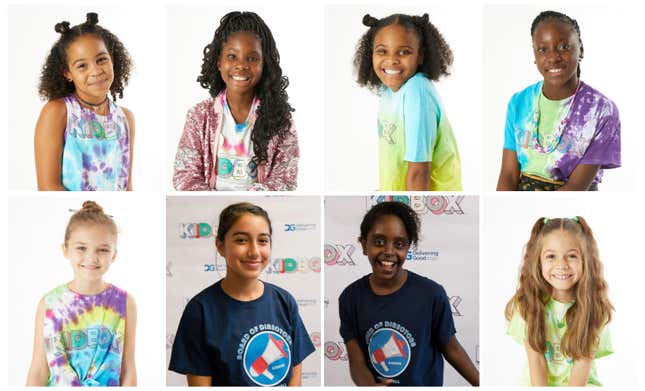 I don't know about you, but when I was a kid, my biggest initiatives were keeping my room clean and babysitting my younger siblings. But for the eight remarkable girls above, their mission is to make the world a better place—from advocating for clean water, to literacy, to gun control.
Small Town Horror Story: The Mississippi Burning of Three Anti-Segregationists
For Kidbox's Kids board of directors, the socially-minded kids' style service chose 10 kids between the ages of 6 to 15—six of whom are girls (with two alums included above, each child serving a one-year term)—"who have demonstrated leadership and a passion for social good," according to a statement. As compensation for their service, each has received $10,000 in clothing value "to help execute a meaningful project to drive kindness and give back in their community."
Some of the faces are familiar, like Kids Board alum Naomi Wadler, who at only 11 years old stunned the crowd at 2018's March for Our Lives with a speech imploring us to #SayHerName, and has only increased her activist presence in the years since. Or fellow alum Daniella Benitez, who singularly raised over $32,000 to build homes for families in Tijuana, Mexico and founded the Build a Miracle club to encourage other kids to think philanthropically.
The new girls on the Kidbox's Kids Board include (paraphrased from a statement from the brand):
Mari Copeny: The 11-year-old also known as "Little Miss Flint," is an activist in the Flint, Mich., water crisis who has consistently called out politicians misusing their power. (She was also named to The Root's Young Futurists this year.)
Havana Chapman Edwards: The 8-year-old Washington, D.C., native is the founder of Rhymers Are Readers, which helps raise money to donate books with black female protagonists to encourage literacy and representation.
Tamia Hawkins: The 12-year-old St. Louis resident donates treats to the homeless through her business, Mia's Treats, and she started development programs to teach baking to kids in the inner city.
Franiya Tiffany: A 9-year-old Mary Esther, Fla., native with a passion for helping spread kindness and volunteering at local women's shelters has also written two books that encourage people to love themselves and be kind to others.
Michelle Moreno: A 8-year-old from Pembroke Pines, Fla., who has raised hundreds for kids without access to clean drinking water through Charity Water.
Isabella Davis: A 10-year-old Lexington, N.C., resident who helped collect over 500 toothbrushes for victims of Hurricane Florence.
The Glow Up got in touch with two of these young changemakers—Franiya Tiffany and Havana Chapman Edwards—both of whom are excited about their work with Kidbox, and the partnership's potential to further their respective causes.
"It means a lot to me and makes me feel really good. I feel like I can do anything," Franiya Tiffany, told us via email. "I'm hoping it will help me impact and encourage more kids to be creative and find ways to help in their communities too."
When asked why she thinks more kids—and in particular, more girls—should become aware of and actively involved in social issues, Franiya Tiffany told us that in her opinion, the issue starts with how girls treat each other.
"We have so many problems going on with girls bullying each other and even more major problems beyond bullying," she said. "Bullying is very bad, but [there's] so many other issues going on, too. I feel if more girls pay attention to the big issues around them instead of taking part in making the issues a bigger problem, they [too] will try to find positive ways to get involved; to not only fix the issues in their communities too but learn to dream bigger."
Havana Chapman-Edwards, also known as "the Tiny Diplomat" (currently living in Frankfurt, Germany with her parents as United States diplomats) agrees, telling us via email:
"The biggest thing kids and especially girls can do is work together. The best way to get involved and become more aware of social issues is form a sisterhood of friends who care about the same issues as you do. One girl is powerful, but a movement of girls is unstoppable."
While Havana may only be 8, she's already well versed in activism. She garnered national attention as the only student at her school to participate in the national school walkout to honor the victims of the 1999 Columbine school shooting, and will today participate in the #MarchforSisterhood with Girls Who Code. And true to her nickname, Havana's excited about the global impact her role with Kidbox can make.
"I love helping people, so I am so excited to partner with them to do even more for girls around the world," she said, noting that she's used the funds from Kidbox to donate clothes to the St. Bakhita Orphanage in Accra, Ghana.
"These girls want to be engineers, teachers, athletes, business owners, and more," she said. "My project with Kidbox means I get to help make sure they look as good on the outside as they are brilliant on the inside. This is important because all kids should feel confident about themselves and the way they look."
And though she be but little, she is fierce.
"I have learned that even though adults will underestimate us because we are young and especially because we are girls, we have the power to make change," Havana told us via email.
Though both Havana and Franiya are years away from being able to cast a ballot, each girl has distinct hopes for how Washington can build a better future for kids everywhere.
"I can't vote for 10 more years, but I have stood on Capitol Hill and looked into the eyes of our government leaders and fought for myself many times because even though I am tiny, my voice is not," said Havana. "All the problems we have—the solution starts with education. Education is the most important piece to the puzzle to international peace that must come first.
"If our government leaders say that they value the contributions of young Black girls like me in America to political, economic, and social development, they need to not be afraid to talk about racism," she continued. "That includes racism in schools, environmental racism, and the racism of how gun violence affects too many Black families like mine." (Havana's cousin Tony was shot and killed when he was just 17.)
Franiya Tiffany agrees, volunteering: "A major issue I would like to see our leaders address is better educational art programs to help keep the kids involved everywhere, so we can see less kids in the streets and see more kids reaching higher."
"If our leaders really believe that the youth, and especially girls in America have experiences, innovative ideas, and creative solutions to address problems old and new, then their first priority should be education. When they read this article, I don't want them to just say how inspiring I am at such a young age, I want them to take action," concluded Havana, who hopes to be one of the first black women on Mars. "Like my forever first lady Michelle Obama says, "The future of our world is only as bright as our girls."