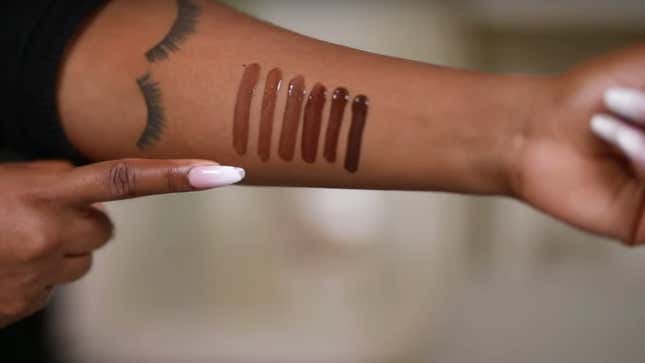 Does size really matter? When it comes to which cosmetic company has the most diverse foundation range, apparently so. Since 2017's 40-shade Fenty Beauty launch, we've watched company after company attempt to match or exceed their all-inclusive ethos (thanks, Rihanna), with occasionally deeply disappointing results (see: Morphe and Beautyblender). The moral? Quantity is nothing without quality.
Fighting "Lie-abetes": How To Spot And Combat Disinformation and Conspiracies In Politics | The 411: Part 2
But can we have both? That was the question on the table when Pür Beauty announced it was launching 100—yes, 100—shades of liquid foundation. Was this just an extremely over-the-top gimmick, or a great idea whose time had at last come?
While we've yet to try it ourselves, by expert accounts (read: two of our favorite beauty vloggers), the Pür 4-in-1 Love Your Selfie Longwear Foundation & Concealer ($36) is the real deal; a thoughtful, full-range collection with a well-developed deep end and some unique characteristics.
One? Pür, already the self-proclaimed "Complexion Authority," has infused their liquid foundation with "age-defying Ceretin® Complex and antioxidant-rich Energy Complex," which includes Green Tea, Ginseng and Vitamin B. Spanning a pale to deep range that includes pink, neutral and golden undertones in each of five shade categories (Light, Medium, Tan, Dark and Deep), the foundation also does double duty as a concealer, with a pump that somewhat ingeniously doubles as a felt-tipped wand hiding inside the bottle.
Sounds great, but how does it wear? We checked out reviews from two of the most reliable brown girl beauty bloggers around, Nyma Tang and Jackie Aina, to give us the real on this ridiculously large launch, and were admittedly impressed by the results. Aina described a gel-like consistency that blended out beautifully, while Tang's super-deep match was flawless. Both also experienced incredible wearability with the product.
While no product is perfect, Pür's is looking like a definite contender—and with 100 shades to choose from, how can you not find your match? At the very least, we're compelled to give this one a try—thankfully, tester-sized mini tubes are available for $10.