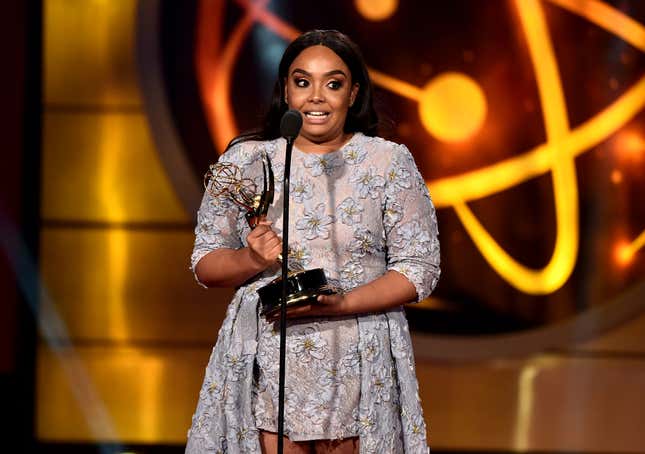 Smash hit web series Giants continued its reign on Friday, with actress Vanessa Baden Kelly and actor Terrence Terrell taking home the hardware for Outstanding Lead Actress and Outstanding Supporting Actor in a Digital Daytime Drama Series at the 46th annual Daytime Emmy Awards.
American Ninja Warrior: Season 15 Is Our TV Pick of The Week
The series, which debuted on Issa Rae's YouTube channel in 2017, has blossomed into a cultural phenomenon, lauded for its authentic portrayals of mental illness, identity and self-discovery.
It's executive produced by the non-profit organization Leaders Up, Empire star Jussie Smollett, and its creator, filmmaker James Bland, who also stars in a leading role as Malachi. CJ Faison and Takara Joseph serve as producers.
"When I created this show I was struggling with my identity and how I wanted to show up in the world, and my Mom told me that God could do more with an honest heart. So I decided to tell the truth to myself first and then to the world through the stories of three millennials of color struggling to make sense of their sexuality, mental health and purpose," Bland, who created the series, told The Root. "Our motto in the writers room was to tell the truth, and that truth set us free to be vulnerable and authentic."

Terrell, who plays Kwasi Asamoah, also took the time to acknowledge that his win was much bigger than just himself.
"I feel honored and beyond blessed to be acknowledged in this light. This win is bigger than me," Terrell told The Root. "This is for all those babies in those small towns who have a dream and don't know how or what to do to achieve them. Push past anything that gets in your way and when that door cracks open to your destiny, kick it down! Never give up on your dreams."
Prior to winning on Friday, Gold Derby reported that the series had the most acting pre-nominations of any digital soap (nine), and when the official nominations were announced and Giants received 11 Emmy nominations overall, it had more than any other digital drama and the fifth most nominations of any program this year, trailing only the legendary quartet of Days of Our Lives, General Hospital, The Young and the Restless and The Bold and the Beautiful.
But as for its heavily anticipated third season, Bland asserts it's all a matter of trusting the process.
"We're figuring out what is the best way to continue these stories and we are being patient," he recently told Shadow and Act. "One thing that we did from season 1 to season 2 which is very clear on the screen is increase the production value, so I just want to continue to raise the bar. The possibilities are still somewhat open and we're trusting the universe to bring us what is right."
The first two seasons of Giants were recently acquired by TV One's new subsidiary Cleo TV, which will also premiere Lens of Culture, its new black travel series co-starring celebrity photographer Elton Anderson, Jr. and media personality Tai Beauchamp in August.
But until Giants resumes production, Bland has plenty to savor.
"I'm immensely proud of my team and the work we've done to offer a mirror to those that look like us, so they too can see themselves on screen," he told The Root.