An Athens-Clarke County, Ga., police officer is out of a job after an investigation determined that he purposely rammed his police cruiser into a fleeing suspect.
According to ABC News, Officer Taylor Saulters was first suspended after the incident, which occurred Friday, but was ultimately fired Saturday.
"After reviewing the officers' body camera footage, and all the other facts and circumstances of this case, Chief Scott Freeman terminated the employment of Officer Taylor Saulters," the Athens-Clarke County PD said in a statement.
During the encounter, Saulters is seen in his cruiser driving after the suspect, identified as Timmy Patmon, who was wanted on a felony probation warrant and was attempting to escape on foot. Saulters uses his vehicle in an attempt to first block Patmon's path, but he dodges the vehicle and keeps running.
That is when Saulters rams his vehicle into Patmon, causing him to roll up the hood of the vehicle before collapsing on the ground.
G/O Media may get a commission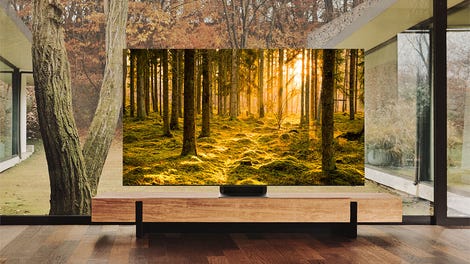 Up to 40% off
Samsung Smart TVs

Witnesses who saw the incident could be heard loudly protesting.
"You didn't have to hit that man like that," a woman could be heard yelling.
Saulters and his partner, Officer Hunter Blackmon, attempt to cuff Patmon, who appears mildly stunned after the impact and refuses to put his hands behind him. Nonetheless, despite already running the man down, Saulters threatens to deploy his Taser.
"Give us your hands now or you're gonna get Tased," the officer can be heard saying on the video. "Do you understand me? Make the right decision."
Patmon was taken to the hospital but escaped with "scrapes and bruises" and was taken into custody after being released.
"Athens police Chief Scott Freeman initially placed Saulters on administrative leave, initiated an internal affairs investigation, and requested that the Georgia State Patrol and Georgia Bureau of Investigation conduct independent investigations of the incident," police said in a statement.