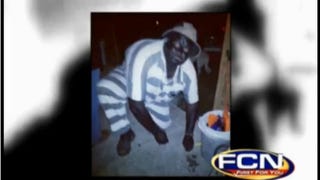 A South Georgia deputy sheriff who was photographed dressed in blackface and inmate stripes at a Halloween party has been suspended without pay, the Huffington Post reports.
A 15-year veteran of the Camden County Sheriff's Office, Chad Palmer reportedly told people at the private party that he was dressed as a Camden County inmate, and he was "picking cotton" in the photo, First Coast News reported.
In the racist image, Palmer's face and arms are painted black and he is wearing "jailbird" stripes. The image was shared thousands of times on social media, triggering anger among residents, which led to a disciplinary hearing. On Wednesday, he was suspended without pay, the Huffington Post reports. 
Camden County Sheriff Jim Proctor told the Florida Times-Union that he was "shocked" when he saw the photo of Palmer, but said that the officer did not fully understand the costume would be interpreted as racist.
"He thought it was funny. It was a costume party," Proctor told the Times-Union. "… [But] it showed a lack of judgment and sensitivity."
Read more at the Huffington Post.