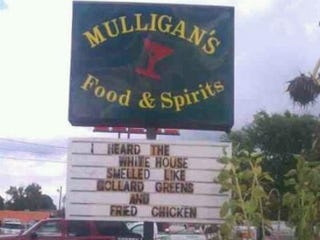 Georgia bar faces backlash for racist sign: The "I heard the White House smelled like collard greens and fried chicken" sign has been removed from Marietta, Ga.'s Mulligan's Bar, but the National Human Rights Organization is carrying on with its protest. 
R. Kelly makes Soul Train Awards history: His two nominations this year brought his grand total to 21 and set a record.
Arizona judge OKs "Show your papers" immigration law: The law, effective immediately, requires police to check the immigration status of anyone they think is in the country illegally during routine stops.
Johnson and Lozada's divorce finalized: Just one month after Evelyn and Chad Johnson filed for divorce, there are reports that a Florida county judge finalized the divorce early this morning.