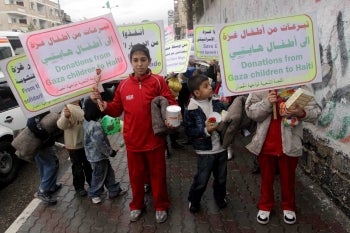 Children in Gaza are scraping together what they can and sending it to Haiti for earthquake relief. From The Palestine Telegraph:
The donations collected by a Red Cross representative are toys, toiletries and sweets. They were small luxuries that Gazans know only too well can brighten spirits in the face of devastation. Some also gave money.

"It's a symbolic donation for the people of Haiti, for the children of Haiti, to tell them that we feel the suffering." said Mr. Jamal Khudari, from the Palestinian Committee against the Siege.
Wow.