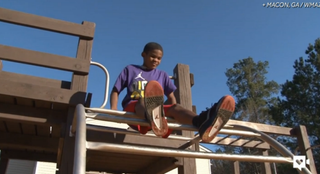 Three Bibb County, Ga., sheriff's deputies are being recognized for their kind actions after buying a pair of brand-new Air Jordans for a 9-year-old boy who was constantly being bullied because of his old footwear, 13WMAZ reports. 
According to the boy, Adam Flowers, the other children kept saying "What are those?!" and taunting him about his worn-out shoes. 
But on Feb. 13, when Adam's grandmother looked outside onto the Macon, Ga., street where Adam was playing, she noticed that the bullying had escalated to dangerous levels. Carolyn Taylor detailed how she saw a 16-year-old girl place her grandson in a choke hold. 
"When I heard him scream, I knew he was in trouble," Taylor said. 
The deputies responding to a call—Trinicholas Carswell, Timothy Jones and Jeff Howell—quickly dealt with the situation but soon learned that this was a regular occurrence. Adam's grandmother takes care of the 9-year-old and his two brothers by herself, according to a news release, and Adam hadn't had any new shoes in about a year or so. 
The deputies decided to treat the A student at Vineville Academy to a pair of brand-new Air Jordans. 
"Thank you for helping me stop the bullying; I can play outside without worrying. Oh I forgot! My shoes are awesome, they are cool. I won't forget you," Adam wrote in a letter to Deputy Carswell. 
Read more at USA Today.