(The Root) —  Fruitvale Station — a film chronicling the final day of Oscar Grant III, a 22-year-old Oakland, Calif., native who was shot and killed by a transit-police officer on New Year's Day in 2009 — opens on Friday. Originally slated for an October release, distributor the Weinstein Co. and Executive Producer Forest Whitaker's Significant Productions pushed up the film's opening night, which now coincides with the closing statements in George Zimmerman's murder trial. Perfect timing, if the events themselves weren't so heartbreaking.
Still, against the backdrop of the Zimmerman proceedings, first-time writer-director Ryan Coogler's Fruitvale Station emits an eerie glow. The film, which stars Michael B. Jordan, Academy Award winner Octavia Spencer and Melanie Diaz, is brilliant in its simplicity. Grant, played by Jordan, goes about his day interacting with his girlfriend, Sophina, played by Diaz; his daughter, Tatiana; and mother, played by Spencer.
Coogler acknowledges that most of the script was culled from public trial testimony and personal interviews with Grant's surviving family and friends. But the film's heart and grit is delivered by its leading man, Jordan. Through roles on critically acclaimed television shows like The Wire and Friday Night Lights, Jordan has proved to be one of the special ones.
Raised in Newark, N.J., he's been acting since he was a child, and he has shown his skills as he deftly shifts between roles as a helpful stranger and a cornered criminal. And in this day and age, when small-budget, independent films like Beasts of the Southern Wild garner multiple Academy Award nominations, it's highly possible that Jordan might find himself on the academy's shortlist.
The Root sat down with Jordan on a steamy summer day in New York City, where he chatted about channeling Grant and being a rising star.
G/O Media may get a commission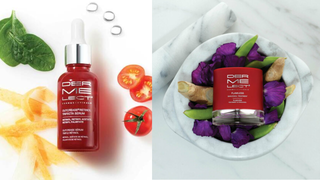 Save $19
Retinol Renewal Kit
The Root: How did you and your co-star Melanie Diaz emulate the relationship between Oscar Grant and his girlfriend, Sophina?
Michael B. Jordan: We spent a lot of time together before we started filming. I cooked dinner for her. We did things that couples would do, that best friends would do, because Oscar and Sophina were definitely best friends. The low parts were easier to play — everyone knows [how to act out] conflict — but trying to create those organic, real friendship moments is something that takes more time.
TR: What's the one thing that stands out most to you in Grant's story?
MBJ: The tragedy of the loss of life and that it happened again. Or maybe thinking, "What if it wasn't caught on camera? What would've happened? Would it have ever been a thing?"
TR: Will tackling this heavy role influence how you perform in other projects?
MBJ: Being No. 1 on the call sheet is something every actor dreams of, and this was my first time [shouldering] this type of workload. The bar has been set at a certain place, so on the next project I'm just trying not to have a ceiling. 
TR: On Friday Night Lights you delivered moving work as quarterback Vince Howard. What was it like working with Kyle Chandler, who played Coach Taylor?
MBJ: It's a different pace working over a couple of seasons. The writing on that show was amazing. [Friday Night Lights head writer] Jason Katims wrote family and those characters so well, and he still gave us room to play. I learned so much from Kyle Chandler; being in a scene with him was like not working at all. We were having so much fun that we'd forget [that we were filming]. They'd yell "cut" and we'd still be going.
TR: For Fruitvale Station, were you able to talk to Oscar Grant's family and friends? What was that like?
MBJ: It was a little awkward at first. I was hesitant because I was thinking about what they were thinking about me. I knew that [Grant's death] is only four years old, and it's still fresh. I wouldn't be over it.
I sat down with Grant's mother, Wanda, and Sophina. I got to hear about their relationship and how they treated one another. I spoke to all of his best friends. We went to a park, ordered some BBQ, played dominoes, drank a little bit and let the stories just flow.
It helped that I was on The Wire because they were all Wire fans, so that broke the ice a bit. It was cool because then they stepped back and really trusted [Fruitvale Station director] Ryan to take care of the story.
TR: Did you pull conversations from the family and friends and bring them to Ryan as notes?
MBJ: Ryan was with me every step of the way, at the park and when we met with Sophina and Wanda. For me, I can't talk to Oscar, so I had to hear the different perspectives of Oscar, and he was different with everybody. And with Ryan's due diligence, he did a lot of the heavy lifting for us — the story was on the page. It was up to us to connect the dots and make it make sense to us.
TR: The officer who shot Grant served 11 months in jail for involuntary manslaughter. How important do you think this film is now as we await the verdict in George Zimmerman's trial — especially since the original release date was in October?
MBJ: Harvey [Weinstein's] a smart man.
TR: Are you surprised by the critical acclaim the film's received?
MBJ: My biggest expectation for this film was to get into Sundance. I'd never been before, and I wanted to go with my own project. I was happy to get in; then to win the Grand Jury [Prize] and Audience Award was mind-blowing.
TR: Every actor prays for a breakout, leading role that sets his or her work above the fray, and this seems to be yours. How does that feel?
MBJ: Every day is like a dream that I'm waiting to wake up from. You work at your craft constantly and wait for roles like this to come around, so it's humbling. I'm excited, I'm happy and very nervous.
At a young age, you train yourself, go on auditions, do a good job and expect to get it, and when you don't, you're let down. That disappointment sits with you, so you tell yourself to do the work and disconnect because you have no control over the outcome.
Every project, I give it my all, and then I have to walk away. Right now, being on this journey with Melanie, Ryan and Octavia, I'm just enjoying the process. Where I'll end up, who knows.
Hillary Crosley is the New York bureau chief at The Root. Follow her on Twitter.