The Los Angeles food-delivery service Trap Kitchen taped a cooking demo with Martha Stewart and Snoop Dogg on Monday at Paramount Studios in Hollywood. Chefs Malachi "Spanky" Jenkins and Roberto "News" Smith made one of Snoop's favorite Trap Kitchen dishes.
Media coverage of Trap Kitchen has been almost nonstop over the last nine months, and the cooking duo's popularity has soared. They have landed large promotional deals and some big celebrity fans.
As word of the two former gang members and their culinary adventures spread across the internet, they were approached by Warner Brothers to do grassroots promotion for Barbershop: The Next Cut, which was released in theaters in April. Trap Kitchen also catered a private screening party for the film, sponsored by Complex magazine and hosted by Metro Boomin. The chefs catered for the stars of the film at a press junket in Beverly Hills and then did cross-promotion of the film with their Trap Kitchen clientele through movie-ticket giveaways.
In May their story was featured on Crime Watch Daily With Chris Hansen, which was quickly followed by their first national talk show appearance, on Fox's The Preachers.
The duo also did their first comedy skit with All Def Digital, featuring Slink Johnson of Black Jesus, in August, and they even catered an after-party for Justin Beiber thrown by Tyga.
G/O Media may get a commission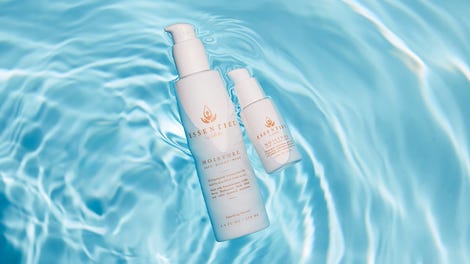 20% off
Essentiel by Adele
Which leads us to this past month and their introduction to the one and only Martha Stewart, the game changer herself.
It all began when Snoop issued an APB on Instagram trying to find Trap Kitchen and wanting to taste their food. He asked for the guys to reach out to him, and they did.
The rest, as the cliché goes, is history.
After their initial contact with Snoop, they became his personal chefs, cooking for the rapper and a host of his celebrity friends, including E-40, Kobe Bryant, Amber Rose and Monica. Snoop told them that he had a television project in the works, and when it came to fruition, he wanted them to be a part of it.
That project—whose working title is The Martha and Snoop Dinner Party—is set to begin airing on VH1 in November.
Nisa Ahmad, Trap Kitchen's manager, says that Trap Kitchen has been approached to do product sponsorship by a large kitchen appliance brand. The chefs also have a cookbook coming out by the end of 2016, and a television deal of their own in the works.
Not wanting to forget where they came from, the Trap Kitchen boys continue to give back to the community. They have done graduation barbecues for kids who graduated from school. They sponsored high school students who could not afford prom. They have spoken at community centers and a youth detention center, and their message to the young people is clear: Follow your dreams, take risks and prosper just like they did.
Unfortunately, at this time you can only enjoy Trap Kitchen's cuisine in Los Angeles, but if you are into food porn, follow @therealtrapkitchen and @trapkitchen_news on Instagram.
Monique Judge is a freelance journalist in Los Angeles. Follow her on Twitter.