You've probably seen Rick Younger's face in countless commercials and TV shows. Last year, as I was watching the series finale of HBO's Girls, I caught him as one of the few black people who made an appearance on the show. Younger was the police officer with Lena Dunham's character in the last scene, and as we spoke about his Broadway debut in the musical Mean Girls, we joked that he was the actual father of the little "black" baby at the end of the series. And it's that sense of humor that has allowed Younger's career to flourish.
If you're a fan of Mean Girls, written by Tina Fey, you're probably already familiar with Tim Meadows, who played Mr. Duvall. The former Saturday Night Live actor was one of the most hilarious characters in the movie. In his Broadway debut as Mr. Duvall, it's safe to say that Younger has some big shoes to fill.
Like many comics, Younger got his start on the local comedy circuit. In his case, it was before graduating from the University of Maryland.
"I had a friend who loved Def Comedy Jam, and it made him decide to try stand-up comedy. I told him I would come and support him, and he was like, I should get up onstage because I make people laugh, too," Younger told The Root.
G/O Media may get a commission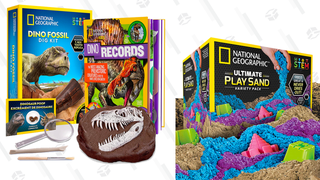 Up to 33% off
National Geographic Science and Activity Kits
Younger figured that in order to prep for his comedy debut, he'd spend the week jotting down all of the funny shit he caught himself saying, but of course, nothing ever goes as planned.
"I went six days without saying something funny. On the way to meeting my boy on campus, Boyz II Men's 'End of the Road' came on, and I started joking about not being able to understand what singers were saying. My first set was basically about singers," Younger noted. "Before my set, a fraternity brother of mine died the death of a thousand comics. I joked about my fraternity brother dying onstage, and people started laughing. It all worked."
Younger eventually returned a week later, and joked that he was offered free pizza, so he kept doing the shows. Younger eventually realized that the skills involved in being a stand-up comic were in alignment with his goals of becoming a writer and director of television and film, and even becoming a musician. Younger, who comes from a gospel and soul singing background, said that comedy was more appealing at the time, and he felt that it would allow him to incorporate music on his own terms.
"In my dreams of being a singer, I knew it would lead me to do movies, too. When I started doing stand-up, a woman came up to me and said she was helping to cast a gospel stage play, and she asked me to audition," Younger said. "I come in, and they had me auditioning and performing right in the presence of the guy I was going to replace, to scare him straight. And they gave me a smaller part." It was at that audition, for David E. Talbert's What Goes Around Comes Around, where the acting bug bit Younger.
"Some of the most talented people you'll ever meet are doing these chitlin circuit plays," Younger said. "It gave me the confidence of knowing that I could book acting work. After that tour, I started to pursue acting."
And now, years later, he has gone from the chitlin circuit to the Great White Way.
"Being on the Great White Way as a black man is definitely what stands out. The show feels like it's going to have some legs. It's really cool to watch how Tina Fey [who also wrote the book for the musical] works. I think the term 'genius' is overused, but Tina is constantly working and constantly writing," Younger said. "Seeing Tina work hard makes you want to work even harder."
If you're one of the five people who've never seen the movie Mean Girls, Younger plays Mr. Duvall, the principal of North Shore High School in the suburbs of Chicago.
"I am the black administrator of a predominately white high school. And I'm very much aware of what it feels like to be in charge of a bunch of students who don't look like [you]," he said.
"The movie is a cult classic, but I find that a lot of black people don't really know about the movie. It's kind of a big deal, because there are people who know this character. I developed the character without watching the movie much, because I wanted to make him my own," Younger said.
Younger said that during his audition for the musical, he was looking ahead to the other opportunities that might come out of it, even if he didn't book the gig.
"I didn't build my hopes up but so high. For me, just getting the audition, and knowing Tina Fey was in the room, I just thought it was also an audition for anything else they may be working on. I just wanted to make an impression to get the part for the developmental lab," he noted, referring to the show's pre-Broadway run in Washington, D.C.
What Younger didn't expect was that he'd get the role after one audition. But he was still aware that there were ways to lose a job once you have it.
"Even once the announcement [about moving to Broadway] was made, they kept on not specifically saying that it was still the whole Broadway cast," he said. "When we finally got to April 8 and the show was starting, it finally felt real." After the performance opening night, Younger said, Jimmy Fallon pointed directly at him and praised him on how funny he was.
When it comes to being only one of six black actors in the show, Younger realizes the importance of being black on the Great White Way.
"There are so few people of color on Broadway. You are very aware of what you represent. At the end of one show, there was one black kid, and he saw himself onstage. I've seen that with so many other kids of color. They're like, 'Oh my goodness.' That's one of the things that makes it surreal right now," Younger said.
Younger added that he is currently living his dream, and he realizes that there are so few people who are able to do it.
"There's more to achieve as far as people of color on Broadway, and just trying to navigate and creating changes in the system from the inside. I still have to deliver, and live it in such a way that it becomes undeniable that representation has to be done more," he said.
Mean Girls is currently running on Broadway, and Younger can also be found on the Today show during the "Guys Tell All" segments. His current comedy album, Fried Chicken and White Bread, is available on iTunes.
This interview has been edited and condensed.