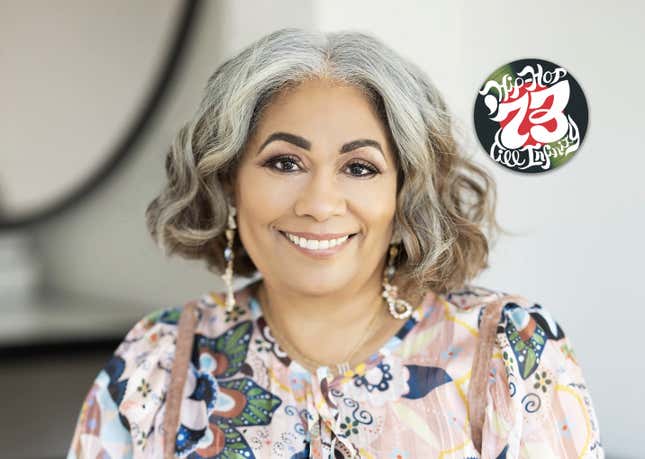 This story is part of our new Hip-Hop: '73 Till Infinity series, a celebration of the genre's 50th anniversary.

Rihanna, Kehlani, Gucci Mane, Justin Bieber and Lil' Kim.

My Hip-Hop Story: For OutKast's Big Boi, Hip-Hop Has Always Been The Voice Of the Youth
Aside from being some of the biggest names in the music industry, these artists have another thing in common: They are among the countless artists who have been coached by Dyana Williams.
Dubbed "Hip-Hop's Artist Whisperer" by the New York Times in 2018, Dyana Williams has earned more than a few titles throughout her career. She is an artist development and celebrity media coach, a journalist, an award-winning radio broadcaster and a co-founder of Black Music Month, which is observed every year in June. Additionally, she also co-founded the International Association of African American Music Foundation.
An Afro-Rican native of the "Boogie Down" Bronx, the Temple University alumna and Philadelphia resident started her career in 1973 as a disc jockey at Howard University's 96.3 WHUR radio station. During her time at WHUR, she not only gained a substantial following under the name "Ebony Moonbeans," but also met her best friend, fellow trailblazer Cathy Hughes.
Fifty years later, she continues to build her legacy, staying wholly committed to the preservation and appreciation of Black music, Black artistry and Black culture.
"It's what feeds my spirit morning, noon and night," Williams, a 2022 Radio Hall of Fame nominee who has been featured in many entertainment documentaries, told The Root. "It's important to preserve Black music and culture and history because we are in the fabric of America, and not just domestically, but on a global level."
Having co-founded Black Music History Month with Philadelphia music legend Kenny Gamble and broadcaster Ed Wright, she does not take the title "Mother of Black Music Month" lightly. Not only does she continue championing Black artistry, but she serves on the board of the National Museum of African American Music in Nashville, Tenn.
"It is open to anybody with a pulse, and that is my goal as long as I'm alive," she said. "I want to make them aware of the magnificence, the power, the elegance and the substance of Black music and culture."
Through her company, Influence Entertainment, she continues to coach stars and produce events, including the Welcome America Festival on the Avenue of Arts in downtown Philadelphia.
While her celebrity roster includes artists from Dru Hill and Donnell Jones, to Jack Harlow and Meek Mill, her advice generally remains the same.
"I tell all my clients to be mindful of their teams, because I've also worked with a lot of artists who maintain that they've been ripped off, robbed—all kind of stuff," she said. "I remind them that while they are creatives and they're artists, they should be cognizant of the business of the music industry."
For her hip-hop artists, she often implores them to read Dan Char's "The Big Payback," which outlines the history of the hip-hop business. Thinking of both the artists and those who work behind the scenes, she starkly advocates that everyone receives proper compensation for their work.
"I want to see people be rewarded, and that's been my mission my whole career—to lift and elevate the culture and the people who make the music and promote it," she said.
In her personal life, she places a grand emphasis on the mentorship and nurturing of other women.
"I love and have mentored tons of women," she said. "It is a way for me to honor the maternal line of people that my ancestors are and come from."
Thinking back to the early days of her career as a young mother, she encourages women and men to always seek balance.
"I'm glad I was able to have a relationship, have family and still pursue my career," she said. "It is challenging, but not impossible."
Regarding any doubters or naysayers who have surfaced throughout her career, she uses their words as fuel to better her craft.
"It empowers me; it emboldens me to be even more successful," she said. "I live in the positive, and it's what allowed me to do so much and to do it well. I have encouragement, you know, and I have a very close, tight-knit group of friends who give it to me real, and I rely on that inner circle."
As she prepares to celebrate turning 70 years young this November, she plans to continue inspiring people from all walks of life to celebrate Black music.
"My whole goal is to inspire—to inform others," Williams said. "And in my case, it just happens to be about the beauty of life and living and Black people in all of our shades, hues and sizes."
Cory Utsey covers music and culture. She was previously a reporter for HUNewsService.com.