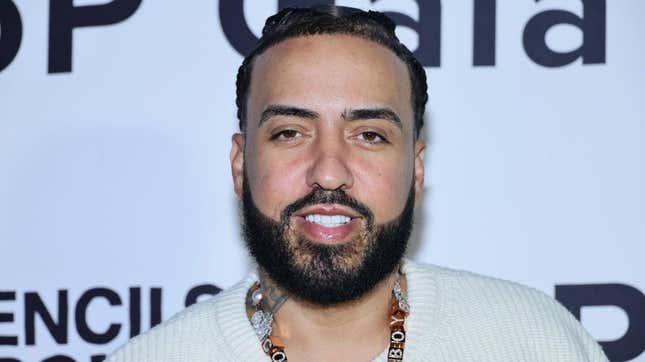 The shooting that occurred last week while French Montana was taping a video could result in the Bronx rapper getting into some legal trouble.
Black Hollywood's Mom, Jenifer Lewis, Plays That's So Random
Last Thursday, rappers French Montana and Rob49 were shooting a video, celebrating their collaboration on French's latest project, Coke Boys 6: Money Heist Edition. While the two artists were filming the video outside The Licking restaurant in Miami Gardens, Fla., shots rang out which resulted in 10 people being injured, including Rob49.
According to NBC Miami, an attorney for one of the victims who was shot and injured in the shooting is planning to file a suit against the "Unforgettable" rapper.
The victim in question is Carl Leon, a 25-year-old music blogger who was invited to the shoot outside The Licking restaurant in Miami Gardens, Fla last Thursday. During an interview with CBS Miami, Leon said, "You know, everyone was dropping but I ran, and I didn't notice I got hit in my hand until like afterwards when everything finished and I was looking, and I seen blood dripping. If I stood there for another five seconds, you know, looking for somebody, I would've got hit in the head."
Leon was shot in the stomach, hand and once with a bullet that grazed his ear. Shortly after the shooting, he was sent straight to the hospital. He was discharged over the weekend.
Josiah Graham, Leon's attorney, said during the interview with CBS Miami that he plans on investigating French Montana, saying, "We know there was no permit issued by the Miami Gardens Police Department for any type of authorized rap video."
He continued, "It's our understanding that he had an unauthorized video shoot at Finger Licking, so, we're looking into that."
Graham is currently seeking out more witnesses and victims for the lawsuit.
While it's thought by many including Graham, that the incident occurred during the filming of a music video, French Montana clarified on Twitter, a day after the shooting, that he was just celebrating the release of his latest project, writing, "Last night, I was in Miami celebrating the release of my CB6 mixtape w/ friends at a local restaurant."
He continued, "We unfortunately were at the wrong place, at the wrong time when an incident took place that left people hurt. Our thoughts & prayers are w/ the victims & families at this time."

No victims died as a result of the shooting and no suspects have been found, according to NBC Miami.