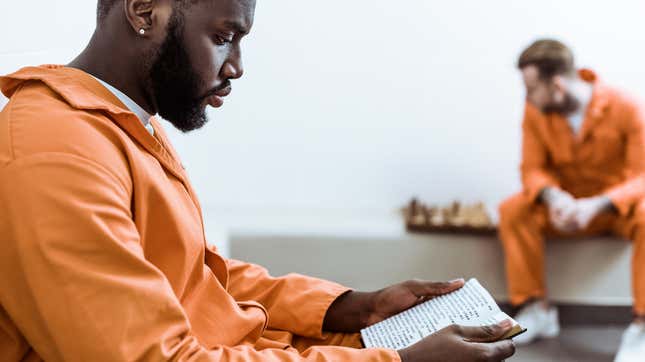 If you didn't know the ceremony was taking place in a state prison, you might think it was just another joyful celebration of newly credentialed scholars. But the 10 members of this graduating class are all convicted felons—and inmates at the Missouri Eastern Correctional Center. And on Wednesday they became the first graduates of Washington University's Prison Education Project, reports the St. Louis Post-Dispatch. The event, held in a visitation room at the prison, was attended by members of the proud graduates' families.
Courtney B. Vance in Heist 88 Is Our Black TV Pick of the Week
The students earned their associate degrees by completing 60 credits' worth of classes taught by professors from Washington University in St. Louis. The project, funded mainly by Washington University, was developed through the national Bard Prison Initiative, which works to create "groundbreaking opportunities for college within America's prison systems."
The course load consists of two to four classes per semester, and class topics this past term ranged from "Introduction to Macroeconomics" to "Japanese Civilization." "We've created this liberal arts environment in the middle of a prison," program director Robert Henke, a professor of comparative literature at Washington University, told the Post-Dispatch. "You're the professor and they're not criminals, they're not inmates, they're college students."
The program accepts only 10 students each year, though the Post-Dispatch notes that up to 60 inmates apply for the chance to further their education and forge a new path.
One of the graduates, Kareem Martin, told the news outlet that graduating with his associate degree has made him feel more like a productive member of society.
"It awakened something in me that needed to be awakened," he declared.
Congratulations to the new graduates.
Correction: Sept. 16, 2019, 5:28 p.m. ET: This story has been edited to remove unattributed text and to add fuller sourcing.