I've spent the past 365 days telling anyone who will listen that Beychella—Beyoncé's legendary performance at the 2018 Coachella Arts and Music Festival—is the single greatest performance that I've ever seen in my entire life, and I will bang that drum until my dying day.
But with the arrival of Netflix's documentary Homecoming, which draws back the curtain to unveil the odyssey that preceded it, those who were unable to attend (or partake via Coachchella's live YouTube stream like me) are finally able to bask in the self-mythologization of the Carter family matriarch.
And while the 37-year-old Parkwood Entertainment founder has millions of fans scattered throughout the galaxy, one of her biggest is a legend in his own right—the Lord of White Linen himself, Mr. Frankie Beverly.
In an enlightening sit-down with Billboard, the immortal bandleader and vocalist explored his 20+ year relationship with Beyoncé and her surprising decision to cover his magnum opus—the other Black National Anthem—"Before I Let Go."
"We met years ago," he said. "I think she was in her teens at the time, if that. I guess she really liked Maze and the song even then, so her mother brought her to our show at the Houston Rodeo [...] She wasn't a big hit star then, but we wound up working together a few times since and she's always been very, very nice to me [...] I love the way she does her thing."
G/O Media may get a commission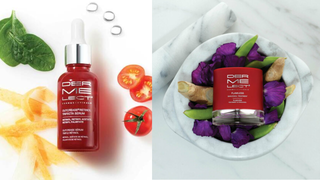 Save $19
Retinol Renewal Kit
And as for Beyoncé's bouncy take on his 1981 cookout carol "Before I Let Go," her decision to do so was a complete surprise.
"She's a great friend of mine, but I didn't know she was going to do this. I was hearing stuff, but I didn't even want to approach her about it," he said. "She kept it quiet, until her people called me one day maybe a week or two ago. When they played it, that's when I heard the first draft of it, and I was blown away. It's a blessing. It's amazing how she works, she's very smart [...] Then the way she just released it, it's off the chain. She's done so much, this is one of the high points of my life."
The 38-year-old song is already timeless on its own, but its new lease on life has introduced the dance floor staple to contemporary audiences, including birthing its own hashtag, #BeforeILetGoChallenge, and an accompanying social media dance craze.
And while Beverly will always be a God amongst men, he's grateful to receive his flowers while he can still smell them.
"I'm hearing from people I haven't heard from in years," he said. "She's done something that has affected my life [...] So it's changed things around for me."