For generations, The Mommy Wars have largely skipped black women. For most of us, staying at home to raise our children full-time was never a choice. Our families' survival depended on our wages—often earned from nurturing and caring for white families. With the rise of a post-civil rights generation, a critical mass of high-powered black women like the Princeton and Harvard-trained first lady Michelle Obama, have more options than ever. After gaining the educational credentials our mothers and grandmothers could only have dreamed of, many of us have exulted and rejoiced in having the choice to stay at home and raise our own children—a decision celebrated by black stay-at-home mothers' groups like "Mocha Moms."
As Michelle prepares to move to the White House to become "mom in chief," the always racially-charged Mommy Wars have reached new heights. In a joint effort with NPR's daily talk show Tell Me More, The Root has brought together four accomplished mothers—Rebecca Walker, Jolene Ivey, Leslie Morgan Steiner and Anna Perez—to share their takes on Michelle's choices. With viewpoints that are funny, brash and bracing, the four women bring controversial and conflicting perspectives that are sure to spark spirited and downright-heated discussions about Michelle's—and all women's—choices.
Read the essays on The Root, then listen to the writers as they talk with Michel Martin on Tell Me More. (Check your local NPR station for airtimes, or listen to the show online.)
by Jolene Ivey, co-founder of Mocha Moms 
I am thrilled beyond belief for Michelle Obama. Not just because she is black, but because she is making the same choice now that I made for my family. Black at-home moms often face particularly harsh isolation and judgment. Clair Huxtable did it all, but she only had to keep it together 22 minutes a week. Michelle Obama has a chance to create a new template for what a fully functioning African-American family can be.  Read More
How Michelle Obama Passed for White
by Leslie Morgan Steiner, editor of the anthology Mommy Wars 
G/O Media may get a commission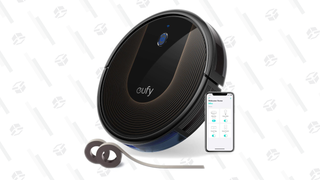 48% Off
Eufy BoostIQ RoboVac
The J. Crew twin sets and Donna Reed hair won over white women voters. "See, she dresses just like us," we thought to ourselves. "We can trust her!" But the mom-first spin is dangerous and insulting. I don't know any moms, working or not, who don't put their kids first. What she and we should be talking about is work/life balance. Michelle brings something to the table, and we need her at the table, suring up all women's choices.  Read More
The End of Feminism As We Know It?
by Rebecca Walker, author Baby Love: Choosing Motherhood After a Lifetime of Ambivalence 
When Michelle Obama prioritized her life over her career in a widely viewed television interview, I cheered. Feminism's slippery promise of diversity has long been built around white centrism, its monopoly by women over 50, its de facto placement of the rest of us in the margins. Michelle's rise challenges that centrism. She so embodies feminist goals that she surpasses them. How will white feminists deal with that?  Read More
by Anna Perez, press secretary to former first lady Barbara Bush 
If you think you've been under a lot of scrutiny, you ain't seen nothin' yet. The good news is that the relentless glare can also help you shed light on important work being done by you and others around the country and world. The White House is full of traditions, but traditions are guides, not rules. It may be the People's House, but the next four years, at least, it will be your home. Set your own tone.  Read More
READ Tell Me More host Michel Martin's essay on What Michelle Obama is Giving Up. Listen to the 'Mom-in-Chief' podcast on Tell Me More.